New York's Department of Environmental Conservation (DEC) has denied an air permit renewal by Greenidge Generation to continue to operate a Bitcoin mining data center using a gas power plant.
The facility is operating under a 2016 permit that was given to the power plant prior to the data center's launch in 2019.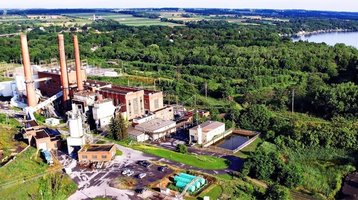 Originally a coal-fired power plant that was shut in 2009, Greenidge Generation was brought back online in 2017, providing power exclusively for cryptocurrency mining, which began two years later.
It initially housed 7,000 mining rigs, consuming 14MW of power, but last year the company said that it was expanding the facility to use up to 85MW of the total 107MW potential output of the Greenidge plant.
But the Finger Lakes fossil fuel plant was operating under an old air permit license, and sought to renew it after it expired last year. New York Governor Kathy Hochul delayed making a decision due to a gubernatorial primary race where she sought both money from crypto interests, and votes from the environmentally conscious.
Winning this week with 65 percent of the vote, Hochul's administration has now made a decision on the air permit.
"The renewal of the Title V permit for the facility would be inconsistent with or would interfere with the attainment of the Statewide greenhouse gas (GHG) emission limits established in Article 75 of the Environmental Conservation Law (ECL). Moreover, Greenidge has failed to demonstrate that the continued operation of the facility is justified," Daniel Whitehead, director of the Division of Environmental Permits at the DEC, said in a letter to the company.
He added that the 2016 permit was only granted under the understanding that the power plant would support the grid, and that they were never told about the behind-the-meter cryptomining plans.
The 2020 Climate Act requires the state to reduce greenhouse gas emissions to 40 percent below 1990 levels by 2030, and 85 percent below by 2050.
Greenidge claims that it is carbon neutral because it uses carbon offsets, but such offsets have a mixed record of actually reducing emissions.
The company said that it was appealing the decision, and would continue to operate while it appealed. Despite a dramatic fall in cryptocurrency values, the facility is believed to be highly profitable, with it costing around $2,869 to mine a Bitcoin at Greenidge (at time of writing, a single Bitcoin is worth $19k).
Should it close, it may not be the last cryptomining facility in New York to be targeted.
In June, New York state legislators passed a bill to ban cryptomining data centers that use fossil fuel power plants.
The bill still has to be signed by Gov. Hochul, who again held off making a decision ahead of the gubernatorial primary. She has until December 31 to decide whether to sign, with the gubernatorial election set for November 8.
More in The Energy & Sustainability Channel