Green Mountain, the colocation provider with 100 percent renewable underground facility by a fjord in Norway, has installed 5MW cooling capacity and several new UPS systems from Vertiv.
Last year, in 2020, Green Mountain expanded its underground DC-1 facility with a new 2.5MW hall, as well as opening a new above-ground DC3 facility in Oslo, and announcing plans to develop another cluster of data centers in the Kalberg Valley, Norway.
The eco-efficient provider has previously been a customer of Schneider Electric. In response to a query from DCD, the company has clarified that it is continuing to use equipment from both providers.
For breaking data center news, features, and opinions, subscribe to DCD's newsletter
Fjord focus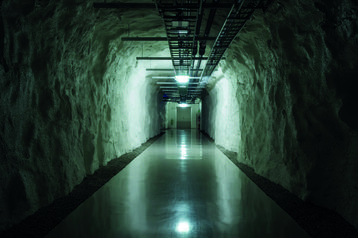 "There are a lot of things going on at Green Mountain," said Tor Kristian Gyland, CEO of Green Mountain. "We are in the final stage of completing our second 4MW facility in Oslo and an additional 2.5MW at DC1 Stavanger. We are working with several suppliers that have cutting edge technology and Vertiv was selected for the cooling delivery for the DC1 Stavanger buildout and the UPS delivery for both phases at DC3 Oslo (8MW). We have also awarded Schneider some contracts for these buildouts so it's not a complete change from Schneider to Vertiv."
Based in a former NATO facility carved deep in a mountain, the DC1-Stavanger data center runs on 100 percent renewable hydropower and is cooled with water from the fjord, which provides a continuous temperature of 8°C (46F) all year round. Like many other European providers, Green Moutain has signed up to the Climate Neutral Data Centre Pact, which requires providers to be completely climate neutral by 2030.
For a recent expansion, Green Mountain chose a Vertiv Liebert PCW chilled water perimeter unit, for a total installed cooling capacity of 5MW. Vertiv was also chosen as supplier of uninterruptible power supply (UPS) systems for another project deployed in parallel, based around several Liebert EXL S1 UPS systems, with lithium-ion battery backup.
"For Green Mountain, the sustainability of the products and of the suppliers is a key factor when purchasing new equipment. Vertiv technologies are the most energy-efficient I have seen, and this will further improve our overall sustainability which already has an extremely high rating," commented Alexander de Flon Rønning., Green Mountain's design and product manager.
He also liked the compactness of Vertiv's systems: "Given that our data center is carved in a mountain, we don't have any extra rooms," said de Flon Rønning. "We couldn't blast through more of the mountain to make more space for data center equipment."
Installing the systems during the Covid-19 pandemic was difficult, he said: "We were concerned that all factories and deliveries would shut down. Fortunately, Vertiv stepped up and helped, among other things, by tracking the shipments and making sure the equipment was delivered smoothly despite closed borders and logistical challenges. If Vertiv hadn't helped with the shipments, we could not have completed the project in time."
"As we build other projects, we'll look at Vertiv data center technology," de Flon Rønning noted. "When we select a partner, we do so from a strategic perspective for a long-term relationship."