The National Center for Supercomputing Applications (NSCA) is to retire the iForge high-performance computing (HPC) system.
Founded in 1986 and part of the University of Illinois Urbana-Champaign, NSCA provides high-performance computing resources to researchers and industry partners across the country.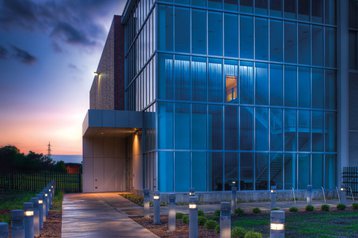 In operation for 11 years and the Center's longest-running HPC system in production, iForge allowed for sensitive data run by a variety of industry clients to be kept separate.
Upgraded repeatedly during its lifetime, iForge currently offers 24 nodes each with 24 cores equipped with Haswell processors; 44 nodes with 40 cores each and equipped with Skylake chips; and a two-node GPU unit each equipped with Skylake processors and 40 cores featuring four Nvidia V100 GPUs.
"The iForge machine was created to provide general-use supercomputing resources to industry," said Brendan McGinty, Director of Industry at NCSA. "We are able to work with competitors who don't need to know each other's businesses."
During its time in service, iForge helped an aerospace partner accomplished some of the critical designs for their new engines, aided major discoveries in a few life science domains enabled by novel computational pipelines and frameworks devised and supported on iForge, and enabled the world's first successful volcano-eruption forecast.
"At some point in 2010, we said, 'why don't we try to have a separate HPC system for our industrial partners only?'" said Seid Koric, technical associate director at NCSA and a research faculty at The Grainger College of Engineering. "And so we did. I think it was Fall of 2011 when the first version of efforts came out. And right after that, the existing partners felt much happier about being able to do much more productive work."
The system is set to be replaced with the new vForge system
"vForge being a virtual HPC system, we can scale up in a hurry and very affordably," said McGinty. "We combine that now with a shared file and storage system across other NCSA HPC systems. So, you can easily go and compute on different resources with your files. You can run it on the next iteration of Forge that we eventually create."
"The new generation of HPC users prefer to click on graphical user interfaces (GUIs) instead of typing," said Koric. "They don't want the black and white Linux interface. vForge has an open on-demand interface, for example, which will allow this kind of GUI- based computing particularly for novel machine- and deep-learning applications and computational frameworks. Users will just click on whatever they need to do instead of typing. I'm not saying it's going to replace 100 percent typing on Linux, but for many researchers, it will be welcome news."
In December NSCA announced it was to retire the Blue Waters supercomputer after a nine-year run. Launched in early 2013, the system was capable of 13.3 petaflops of peak performance. Blue Waters was the fastest supercomputer at a university anywhere in the world until the Frontera supercomputer at the Texas Advanced Computing Center came online in 2019. It was replaced by the new Delta system.