NTT has launched a new data center outside Jakarta, Indonesia.
Located in Bekasi, the new Jakarta 3 Data Center is a purpose-built four-story building with 18,000 sqm of IT space and 15.2 MW capacity. When fully built out, the facility will reach 45MW.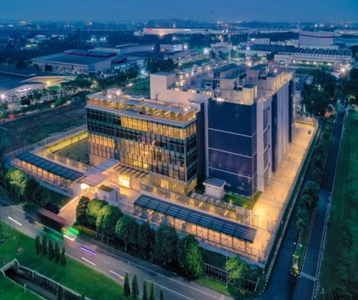 "Jakarta 3 Data Center will accommodate the needs of clients, particularly cloud service providers and the financial industry, which require flexible facility designs to help them achieve their business objectives. NTT Indonesia already offers the Jakarta 2 Data Center, which attracts many service and content providers, and we can provide our local network services to and from our newly built Jakarta 3 Data Center. We hope to play a key role in providing vital data capacity at a high speed to keep Indonesia's digital ecosystems and the digital economy ticking," said Mizuho Tada, president and director, NTT Ltd. Indonesia.
First announced in 2019 and originally due for completion at the end of 2020, NTT said the facility has a Tier IV ready compact and modular design. It also said its 'cooling wall system' is the first of its kind, offering power efficiency and cost-effective cooling to support high density up to 15kW/rack.
"NTT views Asia Pacific as a key region, and Indonesia has become a strategic location with the new APRICOT submarine cable system. Jakarta 3 Data Center will drive business opportunities in Asia through the upcoming APRICOT cable system that will be operational in 2024, linking all our large-scale data centers in the region. Our continued commitment to Indonesia will help position NTT as a technologically innovative leader to address the industries of the future," added Masaaki Moribayashi, president and board director for NTT Ltd.
Jakarta 2 is an eight-story purpose-built data center in n central Jakarta with capacity for up to 2,800 racks across 7,700 sqm and 9.3MW of capacity. The company acquired the facility in 2015 through the purchase of Cyber CSF. NTT previously operated its Jakarta 1 facility in the Wisma 46 building, but that is no longer listed on the company's site.
Earlier this week NTT announced plans to develop a new data center in Ho Chi Minh City, Vietnam, in partnership with local ICT firm QD.Tek.