NTT has launched its first data center in Spain, opening a new facility outside Madrid, in the municipality of Las Rozas.
The facility, located at NTT's 12,516 sqm (134,720 sq ft) plot in the Európolis Business and Technology Park, offers 3,600 sqm (38,750 sq ft) of IT space and up to 6.3MW when fully built out.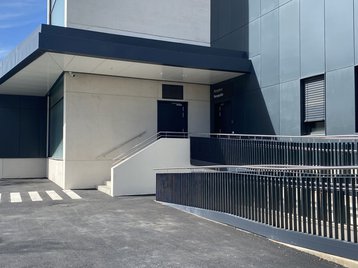 "The demand for data center capacity in Spain has grown strongly in recent years. Madrid is the largest data center hub in Spain and a European gateway to the world, and our investment in the region is another milestone on our global roadmap as we continue to expand our presence across the continent to meet the coverage, capacity and connectivity needs of our clients," said Florian Winkler, chief executive officer of NTT Ltd.'s Global Data Centers division in EMEA.
Work on the Madrid facility in Spain began in November 2020; it was originally scheduled to go live in Q3 2021. NTT said the entire cooling concept of the data center was adapted to the warm climate of central Spain: air-cooled chillers and higher cooling water temperatures reduce power consumption and ensure efficient operation of the facility.
"Spain has become a hub for communications in southern Europe in recent years, in part due to new submarine cables," added Araceli Pedraza, country managing director at NTT Ltd. in Spain. "With our new data center in Madrid, we are actively shaping the digital future of the region. Here, companies will find a reliable, secure and sustainable home for IT infrastructures. At the same time, comprehensive connectivity ensures maximum flexibility."
NTT now operates 19 data centers across the European region with over 160,000 sqm (1.72 million sq ft) of floorspace but is on an expansion tear. Between now and summer 2023, the company aims to increase its available IT load in EMEA by over 40 percent, opening 13 new data center buildings in six countries and adding 115MW.
Earlier this year, NTT entered a partnership with Macquarie Asset Management that will see the investment firm invest real estate capital to support the data center firm's expansion in Europe and North America.
As well as the newly launched Madrid facility, the company is due to launch a new campus in Johannesburg, South Africa, and add additional buildings in Vienna, Austria, and across Germany. 2022 has already seen the company launch its seventh data center in London, UK.
In Asia, the company has opened data centers in India and Indonesia, and announced plans for a facility in Vietnam.