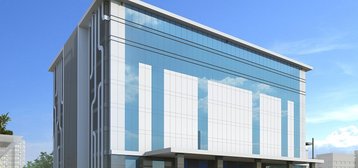 Following the consolidation of NTT India, NTT Communications India, and NTT-Netmagic into one unit at the beginning of 2021, the company plans to double down on its data center business in the country. Sharad Sanghi, CEO of NTT India, said the company aims to expand from its current footprint of 1.5 million sq ft (139,000 sq m) across 10 data centers in four cities to 2.5 million sq ft (232,000 sq m), and enter four more cities.
The company plans six more data center parks over the next three years. Three parks are under construction in Mahape, Airoli (both Navi Mumbai), and Chandivali in Mumbai, with more planned in Chennai, Delhi, and Bengaluru. The company is also keen to enter Hyderabad and Pune, but will wait for demand to increase before doing so.
Investment will include $400 million to scale up green power generation capacity from 150MW to 250MW, as well as $100 million for building new undersea cable landing ports in Chennai, Mumbai and Khandala in Gujarat.
The company has plans to build a 70MW data center in Noida, and a 38MW facility in Mumbai. The company also recently opened data centers in the US, with Bruno Berti, vice president of product management at NTT Global Data Centers telling DCD the Covid-19 pandemic caused a surge in demand as customers wanted "double or triple" capacity.
India is currently seeing a rush of data center investment entering the country. As well as NTT, Princeton Digital Group, Iron Mountain, EdgeConneX, and Hiranandani Group have all made large scale announcements around data centers in India in recent weeks.