NTT is partnering with local IT firm QD.Tek to develop a data center in Ho Chi Minh City, Vietnam.
NTT GDC and QD.Tek will establish NTT Global Data Centers HCMC1 Limited Liability Company (HCMC1), as a joint venture company in Ho Chi Minh City, and HCMC1 will construct the new Ho Chi Minh City 1 Data Center.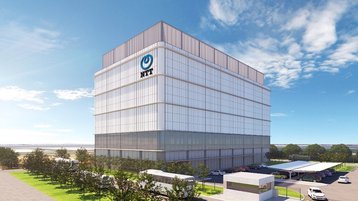 Located in the Saigon Hi-Tech Park, the five-story building will provide a total of 6MW of capacity across 3,100 sqm (33,400 sq ft) of server rooms (equivalent to 1,200 racks). The new facility is to be launched in 2024.
NTT operates one data center in Hanoi that opened in 2009 in partnership with Vietnam Posts & Telecommunications Group (VNPT). At the time NTT said it was preparing to launch a data center in Ho Chi Minh City, but seemingly postponed those plans until now.
"Following on from the capital city of Hanoi, where NTT is already providing services, NTT will now develop its service location to the southern city of Ho Chi Minh City, which is said to be the center of the Vietnamese economy and is home to many multinational companies," NTT said in a press release.
Quang Dung Technology (QD.Tek), established in 2004, is a member of the food manufacturing firm GreenFeed Group. The companies said together that NTT and QD.Tek will be able to provide full-stack, full-lifecycle ICT solutions and lead the development of digital infrastructure in Vietnam.
Yasuo Suzuki, CEO of NTT GDC, said: "Ho Chi Minh City is a promising market and huge potential to grow. NTT already has a strong presence and heritage here in HCMC, and Ho Chi Minh City 1 Data Center along with a partnership with QD.TEK will mark a new chapter for us to better serve all of our clients and achieve their business goals through DX."
Ngo Truong Da, president of QD.Tek, added: "Partnership with NTT, the world's leading telecommunications carrier and data center service provider, is our great honor in order to provide ICT service excellence and benefits of a world-class data center to Vietnamese clients in which there's remarkable growth in demands for digital services and infrastructure."