Nvidia has doubled the memory of its Tesla V100 GPUs, from 16GB to 32GB, the company announced at its annual GPU Technology Conference.
In a keynote speech, CEO Jensen Huang said: "The extraordinary advances of deep learning only hint at what is still to come. Many of these advances stand on Nvidia's deep learning platform, which has quickly become the world's standard. We are dramatically enhancing our platform's performance at a pace far exceeding Moore's law, enabling breakthroughs that will help revolutionize healthcare, transportation, science exploration and countless other areas.
He added: "This upgrade to 32GB is so important, the neural networks are getting larger and larger and larger."
Double for nothing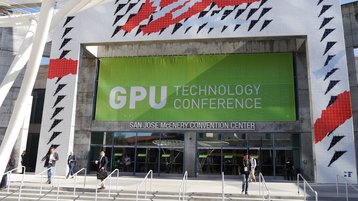 Ian Buck, GM of Nvidia's data center business, told DCD during a pre-briefing at the GTC show: "We will be upgrading our Tesla V100 products. They now have 32GB of memory each. Previously they were 16GB GPUs.
"We've kept all other stats the same in terms of floating point numbers, mechanicals, electricals, etc. This is really great for our channel partners, our OEMs. It's very easy for them to recall and provide these new GPUs to the market."
Cray, HPE, IBM, Lenovo, Supermicro and Tyan will roll out Tesla v100 32GB systems within the second quarter, the same timeframe Oracle Cloud Infrastructure has set for it to offer the V100 32GB models in the cloud.
"This really helps in some of the larger networks," Buck added. "You can process larger batch sizes, do more training in parallel.We're seeing training machine learning translation neural networks be 1.5x faster."
Xuedong Huang, technical fellow and head of speech and language at Microsoft, said: "Microsoft and Nvidia have made enormous progress over the years in our collaboration on AI technologies, including recent breakthroughs in Chinese-to-English translation.
"With the new Tesla V100 32GB GPUs, we will be able to train larger, more complex AI models faster. This will help extend the accuracy of our models on speech recognition and machine translation reaching human capabilities and enhancing offerings such as Cortana, Bing and Microsoft Translator."