Reunion Island is to get a new carrier-neutral data center.
First reported by DC Mag, the French department in the Indian Ocean is set to see a data center built by local conglomerate Océinde. The company broke ground on the new facility in the Le Port Commune in the northwest of the island last week.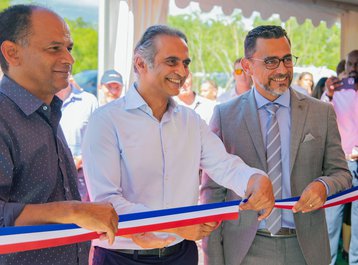 First announced in November 2022, the facility will be known as Omega 1 and will launch in Q3 2024. An investment of €10 million ($10.9m) will see a 1MW, 120-rack facility developed. Rooftop solar will cover up to 10 percent of the site's needs.
Nassir Goulamaly, chairman and CEO of the Océinde Group, said: "The opening up of our overseas territories must be a complete success. It goes through maritime, air, and digital. With the realization of this data center project initiated more than 10 years ago, our ambition is to make Reunion Island a global digital hub, at the crossroads between the African and Asian continents."
Founded in 1970, Océinde's investments include building materials firms, paint companies, aquaculture and fishing, heat pump provider Sdeec, and Reunion telco Zeop.
Reunion is home to three cable landing stations - Le Port, Saint Paul, and Sainte Marie - which host the Lower Indian Ocean Network (LION), SAFE, and Meltingpot Indianoceanic Submarine System (METISS) cables.
French MSP Exodata operators a facility at the University of Reunion in Saint Denis.