Low Earth Orbit (LEO) satellite communications company OneWeb has signed a letter of intent with Amazon Web Services (AWS) to explore cloud-based connectivity solutions.
The two companies aim to work together on a fully integrated satellite constellation management solution as a service offering.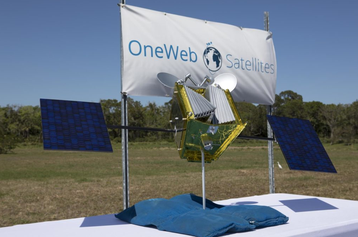 They aim to bundle connectivity with cloud and Edge computing services, virtualize mission operations, improve space data analytics, and deploy cloud to Edge solutions with an LEO-connected user terminal.
"We are excited to work with OneWeb in their efforts to provide cloud-based connectivity and deliver innovative services to customers worldwide," said AWS' director of aerospace and satellite solutions, Clint Crosier. "AWS is committed to helping customers reimagine space systems, accelerate innovation, and turn data into useful insights quickly. We look forward to working with OneWeb in their efforts to push the Edge closer to where their customers need it most."
Maurizio Vanotti, VP for new markets at OneWeb, said: "We are incredibly excited to begin working with AWS to see cloud services extended even closer to the Edge thanks to OneWeb's network. This global agreement will change the market dynamics, with OneWeb's high-speed, low-latency services powering connectivity that will enable customers to reach even the most remote edges of the world and everywhere in between."
Wholesale-focused OneWeb has signed distribution deals with dozens of companies worldwide, including telcos such as Telefónica, BT, AT&T, Paratus, Veon, Sure, Tusass, and Airtel.
Amazon plans to launch its own LEO satellite constellation, currently known as Project Kuiper. The company also operates nearly a dozen ground stations at its data centers around the world and also has a large number of Edge & IoT offerings.