OneWeb has shut down one of its test sites in Alaska, and it has been deemed the satellite-based trial is "too costly" to deliver residential broadband.
First reported by the Telegraph, a filing with FCC by lobbyist group the Alaska Telecom Association (ATA) found that OneWeb's services were "too costly to adopt" as middle-mile transport for residential broadband service, and one long-running test installation of OneWeb service was recently "discontinued due to ongoing technical difficulties."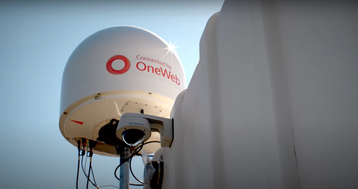 The precise location and nature of the technical difficulties suffered by the 'urban' trial site were not detailed. DCD has reached out for more details.
Sources familiar with OneWeb's Alaskan operations told the publication the site it had shut down was small and not commercialized. Its services remained online in other parts of the state in deals with local networks.
"ATA members continue to explore opportunities to adopt LEO technology. However, terrestrial middle mile opportunities will ultimately deliver superior performance and scalability, lower operating costs, and long-term sustainability," the ATA filing notes.
A subsequent filing by the ATA notes that all existing capacity of the OneWeb constellation in the northern region of Alaska is already dedicated to existing contracts, and additional capacity is not available at this time (though DCD understands the company feels this is inaccurate).
The ATA notes that while Starlink is offering broadband service in Alaska, the service is being offered exclusively as a retail consumer service and is not available to carriers as middle-mile transport.
In 2021, OneWeb partnered with local ISP Pacific Dataport to offer satellite capacity to telecoms, schools, health clinics, and tribal organizations in Alaska. Pacific Dataport was created by Microcom, a supplier of satellite communication systems across the state. The satellite company has also partnered with Alaska Communications.
The Telegraph reports OneWeb's services are still being used in the native community of Akiak in remote southwestern Alaska. The village has a population of 405 and is only accessible by boat or plane; OneWeb and Pacific Dataport began providing broadband to the community in 2021.
ISP Review said it understands OneWeb is still available at sites in rural Alaska in places such as Bristol Bay, Akiak, and Yukon Delta.
OneWeb operates a ground station facility in the state at the 90-acre Talkeetna Alaska Teleport, owned and operated by Microcom. Originally established in the late 1960s by RCA Communications as the Bartlett Earth Station, the site was carved out as part of Alascom, which was acquired by Pacific Telecom in 1979 and again by AT&T in 1995.
The teleport, originally decommissioned around 1999/2000 until it was acquired from AT&T in 2019 and brought back into service, also includes a 5,000-square-foot (464 sqm) data center.