Low earth Orbit (LEO) satellite firm OneWeb has signed a distribution deal with pan-African telecoms firm Paratus.
The agreement, announced this week, will focus on delivering satellite communications services to Paratus customers across 37 countries in Africa, particularly in rural and remote communities.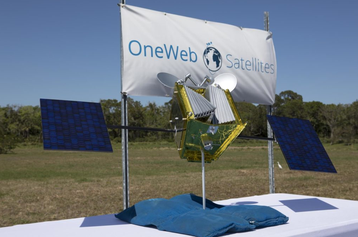 Today's agreement brings us a step closer to realizing our mission of bridging the digital divide. By utilizing the power of our LEO network, in addition to the scale and expertise of Paratus, I am confident that we will be able to deliver for the African customers and communities that will benefit most from our connectivity solutions," said Stephen Beynon, chief commercial officer of OneWeb.
Schalk Erasmus, Paratus Group CEO, added: "The OneWeb distribution agreement is a great achievement for us and affirms our considerable capability and reach in Africa. This agreement will further enable us to deliver on our vision to transform Africa through exceptional digital infrastructure and customer service."
Last month the two companies signed a deal to see Paratus develop a ground station for the satellite firm in Luanda, Angola. OneWeb said it has installed its Satellite Network Portals (SNP) in Angola, South Africa, Ghana, Senegal, and Mauritius.
Wholesale-focused OneWeb, currently undergoing a merger with Eutelsat, has signed distribution agreements with more than two dozen firms globally, including Airtel and Q-Kon in Africa.
In other recent satellite news:
- Maxar Technologies is providing compensation to Echostar for production issues that have delayed the launch of its Jupiter 3 satellite. Originally set to launch in 2021, the satellite has been pushed back to the first half of 2023; Maxar is waiving all remaining milestone payments, totaling almost $60 million. Jupiter 3 is due to provide around 500 gigabit-per-second of capacity over North and South America.
- Astrocast has confirmed the launch of four Astrocast IoT satellites into space, increasing its constellation fleet to 14 satellites.
- E-Space has announced plans to radio frequency module developer CommAgility for $14.5 million. Part of Wireless Telecom Group, CommAgility offers systems that manage signals for cellular, air-to-ground, and satellite networks. E-Space CEO Greg Wyler founded OneWeb and O3b Networks.
- The French government has joined the pledge not to conduct anti-satellite (ASAT) weapons tests. France is the tenth nation to make such a commitment following the initial pledge by the US earlier this year. The US, Canada, Australia, Switzerland New Zealand, Japan, Germany, the UK, and South Korea are also part of the agreement; only the US has previously conducted ASAT tests from that group.
- AST SpaceMobile's recently launched BlueWalker 3 satellite is causing issues for astronomers. The 65 sqm satellite is reportedly nearly as bright as Antares and Spica, the 15th and 16th brightest stars in the night sky. In response to the criticism about its impact from the International Astronomical Union the company said it will be working with NASA and the astronomy community to try to mitigate the impact of this and future satellites.
- Eutelsat has ordered a new software-defined 'flexsat' from Thales Alenia Space. The new satellite will be based on Thales Alenia Space's 'Space Inspire' (INstant SPace In-orbit REconfiguration) product line and site in GEO. Thales said the machine will sit over the Americas and provide more than 100 Gbps of capacity. Expected to be delivered in 2026, it will reportedly also be able to accommodate joint GEO-LEO services, specifically in zones where demand is highly concentrated.