The rapid growth in private cloud deployments will see revenues of service providers with OpenStack-based private infrastructure exceed those of service providers with public cloud based on the platform, 451 Research said in a new report.
The analyst firm released its study at the start of OpenStack Summit 2017, held this week in Sydney, Australia. It said this transition is expected to take place in 2018.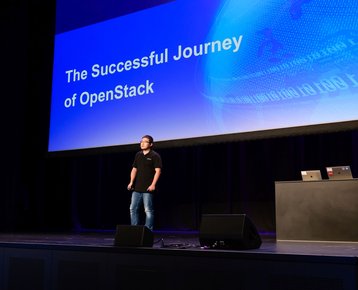 Going private
Indeed, OpenStack looks set for heady growth ahead, with overall revenue projected to reach US$6.7 billion by 2021, at a CAGR of 30 percent – up from just $1.8bn last year.
Most of OpenStack revenue had traditionally been made by service providers with multi-tenant offerings, though the landscape is rapidly shifting towards the private cloud space.
This was clearly evident at the OpenStack Summit this week, as firms such as Adobe and Tencent took to the stage to share how they leveraged OpenStack to build massive private clouds for internal use.
For instance, Tencent's private OpenStack deployment consisted of over 80,000 cores, said Bower Liu, the chief architect of Tencent's 'TStack' cloud.
The transition to OpenStack helped the tech firm cut server costs by 30 percent and operations and maintenance costs by 55 percent for an annual savings of RMB100 million ($15m), he said.
According to the report, deployments in China and the Asia Pacific are growing faster than the rest of the world. The report noted that some of the growth could be seen as a result of government endorsement: for example, Chinese government's Ministry of Industry and Information Technology advocating for OpenStack.
"OpenStack has solidified its position as the leading open source option for building private and public cloud environments, but it is no longer the shiny new toy in the industry – that torch has been passed to containers and microservices," Al Sadowski, research VP at 451 Research, said.
"And while there is no clear answer yet about OpenStack coexistence with containers, it is worth noting that containers and container management are nascent markets in terms of production use cases," he added.