OQ Technology, a Luxembourg-based start-up, has successfully raised ~$13 million for a satellite constellation to connect Internet of Things (IoT) devices.
The Series A funding was led by both 5G ventures, a Greek early-stage investor, and Aramco, the venture capital arm of a Saudi oil and gas company.
The funds raised in the first round will, according to OQ Technology CEO Omar Qaise, be used to fund future satellites and expand the company internationally across Luxembourg, Saudi Arabia, and Greece.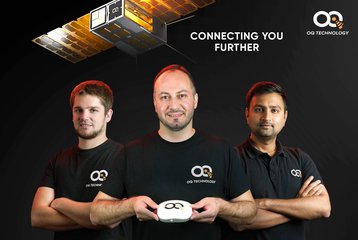 According to Bloomberg, Aramco and Saudi Arabia as a whole are attempting to diversify the country's economy. The investment in OQ Technology marks Aramco's first step toward this goal and will be further compensated by OQ Technology's agreement to hire ~120 Saudis locally and train Saudi engineers to build the full space tech ecosystem.
OQ Technology currently has two test satellites in orbit in order to demonstrate its capabilities to potential customers. "We have some MoUs with these customers," Qaise said, and "are in a stage right now to … clear the formalities for commercial contracts and procurement."
A third satellite, and the company's first fully commercial satellite, will be launched by Arianespace in December/January. All three satellites have been built by Lithuania-based NanoAvionics.
OQ expects to have deployed 'batch 1' of its satellites by the end of 2023, bringing the company's fleet to seven satellites. 'Batch 1' will be fully covered by these initial fundraising efforts.
Qaise has plans for over 60 spacecraft in total and intends to create a subsidiary in Athens, Greece, and another in Al Khobar, Saudi Arabia.
Elsewhere, Atlas Space Operations recently closed its Series B funding round, totaling $26 million.
Atlas, a Michigan-based ground software-as-a-service company, enables businesses to connect and communicate with their satellite constellations, and already has a global network of 30 operational and planned antennas.
Funding efforts were led by Mitsui. Other investors included: Boomerang Catapult, Rise of the Rest, VCapital, Northern Michigan Angels, Harmonix, Wakestream, and Grand Ventures.