Oracle has launched a new cloud region in Chicago, Illinois.
The company this week announced the launch of a new Oracle Cloud Infrastructure (OCI) region in Chicago.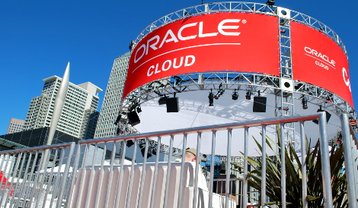 Announced in November 2022, the new region is Oracle's 41st global public cloud region (55 including government-centric facilities) and fourth in the US. The company operates regions in San Jose, California, Phoenix, Arizona, and Ashburn, Virginia, as well as two general US Government regions, three Department of Defense-specific Government regions, several US National Security regions, and a Texas facility serving TikTok.
"As the home to more than 20 percent of the Fortune 500, 60 percent of all U.S. manufacturing, and the world's largest financial derivatives exchange, the US Midwest is a global innovation hub across key industries," said Clay Magouyrk, executive vice president, OCI. "These industries are increasingly seeking secure cloud services to support their need for high-speed data transfer at ultra-low latency. We are excited to open the new Chicago region to help our Midwest customers and partners easily and securely move their mission-critical workloads to the cloud."
The company said the new region offers more than 100 OCI services and applications, including Oracle Autonomous Database, MySQL HeatWave, OCI Data Science, Oracle Container Engine for Kubernetes, and Oracle Analytics. The Chicago Region also offers three 'availability domains' connected with a high-performance network to enable resilient distributed application architectures.
The Chicago area is the location of an existing Oracle Cloud Region with DISA Impact Level 5 authorization for use by US government organizations to store and process Controlled Unclassified Information (CUI) and National Security Systems (NSS) information.
"We look forward to the Oracle Cloud Chicago Region giving us the cloud infrastructure we need to drive our business so we can help organizations around the world sense what's happening in their operations, analyze that data to deliver insights, and act on those insights to make smarter decisions in near real-time," said Matt Ausman, chief information officer, Zebra Technologies.
Oracle opened its 37th cloud region in Johannesburg, South Africa, in January of this year, a second French region in Paris, and its first Mexican region in Querétaro in June. A Spanish region in Madrid opened in September.
The company previously said it had planned to have at least 44 cloud regions by the end of 2022; It had planned to open its first regions in Colombia this year, with additional second regions due to open in Saudi Arabia, Israel, and Chile.
Oracle earnings, Ellison's boasting
This week also saw Oracle announce its Fiscal 2023 Q2 results. The company posted total revenues of $12.3 billion.
Oracle posted Cloud Revenue (IaaS plus SaaS) of $3.8 billion and Cloud Infrastructure (IaaS) Revenue of $1 billion, up 43 percent and 53 percent year-on-year respectively.
"In Q2, Oracle's total revenue grew 25 percent in constant currency—exceeding the high end of our guidance by more than $200 million," said Oracle CEO, Safra Catz. "That strong overall revenue growth was powered by our infrastructure and applications cloud businesses that grew 59 percent and 45 percent respectively, in constant currency. Fusion Cloud ERP grew 28 percent in constant currency, NetSuite Cloud ERP grew 29 percent in constant currency—every one of our strategic businesses delivered solid revenue growth in the quarter."
During the subsequent earnings call, Oracle founder and CTO Larry Ellison boasted of the platform's resiliency, saying: "Our cloud is very secure and extremely reliable. It doesn't go down. In fact, my favorite quote from a big phone company in the United States was: 'The difference between Oracle's cloud and the other clouds are simply that Oracle's cloud doesn't go down.'"
Oracle Cloud did in fact fall over during a record heatwave in the UK this summer.