Oracle has opened a Cloud region in Israel.
The company has opened an underground data center in Jerusalem, and become the first hyperscale company to open a Cloud region in the country.
"Organizations and government bodies need to make a rapid transition to the cloud, and Oracle's new underground cloud area in Jerusalem allows that to happen," said Oracle CEO Safra Katz. "Israel is already today, not next month or next year."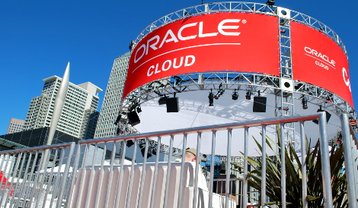 Constructed by Bynet Data Communications, Oracle's Jerusalem data center is an underground facility inside a 14,000 sq m (460,000 sq ft) bunker located below five parking levels and a 17-story building in the city's Har Hotzvim tech hub. The data center extends over four floors at a depth of 50 meters (160 feet) below ground level.
Oracle said the new Cloud area is housed in a "highly secure underground facility" that can provide security against physical attacks such as a missile attack.
"This facility ... can withstand a rocket direct hit, a missile direct hit, or even a car bomb, and the services will keep running with customers not even knowing that something so horrible has happened," Eran Feigenbaum, Oracle's Israel country manager, told Reuters.
This week Oracle said it plans to have at least 44 cloud regions by the end of 2022, including a second Israel region, but hasn't confirmed where in the country. The company has said the facility will be another underground bunker data center.
"Oracle's plans to open a second Cloud area reflect our ongoing commitment to the State of Israel," said Eran Feigenbaum, CEO of Oracle Israel. "We have worked to provide Israel with the first Cloud from a large Cloud provider, and we will probably be the first cloud provider to have a second cloud area."
Israeli data center regions have been announced by all the major US cloud players but Oracle was the first to announce plans for a local facility and the first to actually open one.
Microsoft has faced delays to its planned data center. Development on AWS and Google facilities are ongoing, though Google's development in Moshav Bnei Zion is facing opposition from locals.
In April, Google and AWS jointly won the $1.2 billion Nimbus Project tender to provide cloud services to the Israeli Government that Oracle, IBM, and Microsoft had also been competing for.
In April, Oracle said it would push on with plans to open an Israeli Cloud region despite losing out on the contract, while at the same time filing a legal challenge against the decision. Oracle CEO Catz later said she found it "hard to understand" why Oracle hadn't been awarded the contract.
AWS and Google employees this week published a letter in the Guardian calling on the companies to pull out of Project Nimbus over Israel's actions in Palestine, despite the Project including contractual stipulations to prevent the two companies from halting services to the Israeli government or picking and choosing which departments to work with.