OVHcloud has begun switching on racks in the smoke-damaged rooms of the SBG1 data center, on the Strasbourg site of the fire which destroyed its SBG2 facility last week.
At 2am this morning, the French cloud provider had 23 racks running in Rooms 61 and 62, the smoke-damaged part of the SBG1 data center, according to a tweet from OVHcloud founder Octave Klaba. From today, more people will be involved and the restart will move quicker, while work continues on the rest of the site, in particular to get the SBG3 facility cleaned and ready for use. OVHcloud is working with police and its insurers and hopes to give more information on the cause of the fire soon.
OVH fire update: four halls of SBG1 destroyed, as well as all of SBG2
Full speed to restore OVHcloud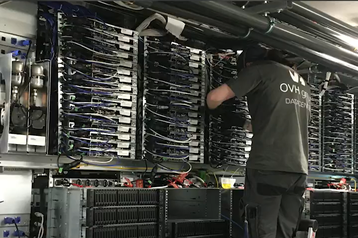 "Yesterday, we tested the process of the restart of the racks with a small-agile team," said a tweet this morning from Klaba. "Today, we are starting to ramp up with more people on the site. People 24/24. Tomorrow, we will be at full speed."
Elsewhere on the Strasbourg data center campus, OVHcloud is working on other tasks: "Today we are testing the clean up the process in SBG3."
The French cloud provider's status page for SBG1 currently shows 210 racks in room 61 and 62, of which 27 are working. From Klaba's earlier comment that 23 racks were"five percent" of the total, there are more racks which are not shown yet. The only other equipment currently visible for the Strasbourg site are 60 racks in Room 90, within SBG4.
Klaba has said that a video announcement tomorrow will go "deeper into the root cause," but the cause is currently the subject of an investigation which could last a few weeks, according to earlier messages.
The day after the fire, Klaba reported that two uninterruptible power supplies (UPSs) at SBG2 were on fire in the early stages of the disaster, and one of them had been maintained by its supplier the day before the disaster. Since then, the UPS systems, along with batteries and fuses, have been handed over to the police and insurers for investigation: "Right now, the police, the insurance and the experts are checking the facts," said a video from Klaba earlier this week.
Klaba has promised to provide free backups as a standard part of OVHcloud services such as bare metal instances or virtual private servers, which have traditionally left disaster recovery to the customer. He has also said that this change should be standard policy in the industry, as "Some customers don't understand exactly what they bought."