French cloud provider OVH has rebranded as OVHcloud, and announced global ambitions, describing itself as the only European cloud provider offering an alternative to US and Chinese providers.
OVH has long offered cloud services based around Kubernetes, OpenStack and VMware, delivered from its own hardware within its own data centers, at locations round the world. Under the new brand, announced at its 20th anniversary Summit meeting in Paris, it intends to become more visible, and capitalize on its claim to offer higher privacy than other providers.
The Summit also included endorsements from the French Digital Economy minister Cédric O, and software giant Cap Gemini, which now treats OVHcloud as a cloud partner, and also from Deloitte.
Cloudy with a chance of frogs' legs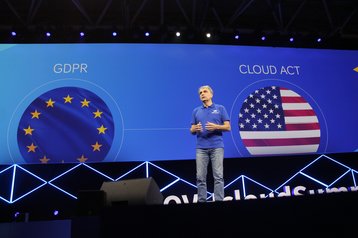 "We are a cloud company," said Michael Paulin, the telecom executive appointed as OVH's CEO in 2018. "More than 70 percent of our revenues are in cloud services, including bare metal, public and private clouds."
OVHcloud is the only major cloud provider in Europe, he said: "All the others are US or Chinese, and there is one Japanese operator. We are the European cloud provider with a worldwide presence - in four continents. We own our own network and our data centers. We build our own data centers and servers."
The company has a US subsidiary based partly around vCloud Air, the VMware public cloud subsidiary which OVH bought in 2017, when VMware failed at public cloud services. OVH uses VMware to offer hosted private cloud.
While OVHcloud's US arm has signed up to the US CLOUD Act, which grants the US authorities access to cloud data, it is constituted separately to the rest of OVHcloud, said Paulin, which means that OVHcloud services delivered from Canada, Europe, and Asia are not subject to the much-criticized measure.
"The CLOUD Act allows one country to have access to companies' data worldwide," said Paulin. "Does that serve the customer?" Stressing OVHcloud's openness, he promised that the company could offer a strong world-wide cloud free of the CLOUD Act - or operate within it, if required, through its US arm.
OVHcloud will continue to make its own distinctive hardware and build ecosystems rather than acquisitions. "The answer European needs is an ecosystem of partnerships, to compete with monolithic competitors."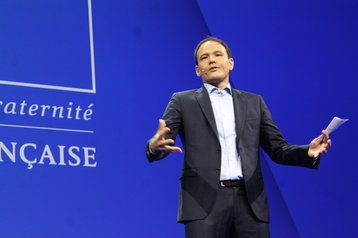 O for OVHcloud
France's Minister for the Digital Economy, Cédric O, took to the stage at the summit, with an endorsement of OVHcloud's strategy: "We are in a global competition which is very intense between US and China," he said [simultaneous translation]. "And France needs to be up to speed with this technology."
O warned that with applications and technology from phones to social media coming from US and Chinese companies, Europeans were being forced to operate under US and Chinese values, and the tech leaders were not necessarily to be trusted.
"The people at the head of the tech giants are not reasonable," he said [translated], "because you can't succeed by being reasonable. We need a real European ecosystem; if we don't want to be strangled, we can't work alone."
On the technology front, OVHcloud announced it would offer a bare-metal Kubernetes service, and that its implementation of VMware's software-defined data center (SDDC) product set is more advanced than other players'.
OVH founder Octave Klaba is still very hands-on with the company: he had recently returned from a five month spell in Texas, integrating the culture of the US subsidiary with the French parent. "It's not European culture versus American," he said, saying that Europe - or at least OVHcloud - is all about "passion and trust."
In the latest issue of DCD>Magazine we talk to OVHcloud's CEO about the company's plans for the future. Subscribe for free today.