The Government of Pakistan has opened a new data center in Islamabad.
Earlier this month Federal Minister for Information and Technology, Syed Amin ul Haq, inaugurated the National Information Technology Board (NITB) data center, known as the NITB Staging Environment.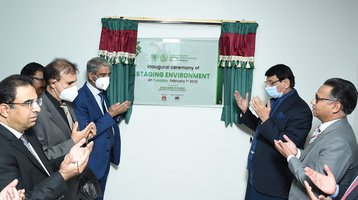 According to local press, the Huawei-built facility encompasses eight data servers with a storage capacity of 500 terabytes; the facility cost PKR. 330 million ($1.88m). It is the NITB's first data center.
"With cutting-edge technology and meticulous attention to detail, NITB's data center provides highly secure and effective solutions that meet the data security demands of ministries." The data center services ensure a secure physical and technical architecture that safeguards the most sensitive and vital data from all types of internal and external security threats," said Amin ul Haq. "Under this initiative, the NITB will help establish secure testing incubation, where testing of government institutions' websites, mobile applications, and web portals will be possible."
The facility will reportedly be used for testing and development of government web portals. Testing of the websites of government institutions' and ministries' mobile applications and web portals will be possible through this data center. It will also be used for disaster recovery.
Previously, applications and web portal testing were carried out by the National Technology Council (NTC) or a third party.
More in Construction & Site Selection