The Pawsey Supercomputing Centre has launched the first phase of its new 50 petaflops Setonix supercomputer in Perth, Australia.
Setonix Phase 1 will deliver double the compute power of its predecessor, Magnus, via third generation AMD Epyc CPUs.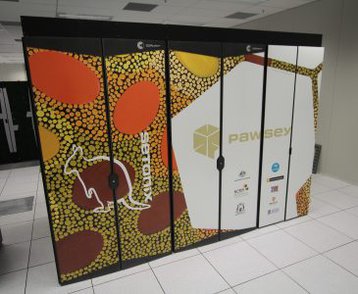 The HPE Cray EX supercomputer – named after the scientific name for the Australian marsupial the quokka – was delivered to the 1,000 sqm facility in Western Australia in September 2021.
Setonix Phase 2 is now on its way to Australia, to be installed once the legacy supercomputers Magnus and Zeus are decommissioned and physically removed. When fully operational, Setonix promises a potential peak of 50 petaflops and will be up to 30 times more powerful than Pawsey's existing two systems combined. It will be Australia's most powerful supercomputer.
At full built-out, Setonix will include an eight-cabinet HPE Cray EX system, including more than 200,000 AMD compute cores across 1600 nodes, and more than 750 AMD GPUs.
The soon-to-be retired Magnus is a one petaflops Cray XC40 launched in 2015, while Zeus is an SGI Linux cluster that supports pre- and post-processing for Magnus and was launched around 2017. Topaz is a Linux cluster that operates as an extension of Zeus with 43 teraflops compute power and 308 teraflops GPU power.
As well as those systems, Pawsey operates the Cray XC30 200 teraflops Galaxy system and the 756 teraflops HPE GPU cluster known as Garrawarla. Earlier this year the Pawsey Centre installed a room-temperature diamond-based quantum computer developed by Quantum Brilliance.