Princeton Digital Group (PDG) has secured $230 million of finance and set out plans for $1 billion of expansion in China.
The group says it is now the biggest international player providing hyperscale capacity in China. It has completed its Shanghai data center campus, and begun construction in Nanjing and Nantong, and is looking for other properties in Beijing, Shenzhen, and Shanghai.
For breaking data center news, features, and opinions, subscribe to DCD's newsletter
PDG ascendant in China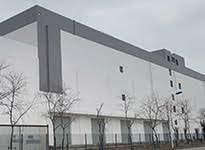 The new money behind PGD comes from China Merchants Bank, and follows an equity investment of US$360 million in October, led by Ontario Teachers' Pension Plan.
The Singapore-based data center builder announced that it has finished building its 42MW SH1 facility in Shanghai - and fully rented it out.
The company has begun building a 43MW campus in Nanjing and has started designing a 60MW campus in Nantong.
PDG is anxious to get another 300MW of capacity on stream, so its announcement adds that it is looking to buy more land in the Beijing, Shenzhen, and Shanghai areas, in order to capitalize on the rapid growth of data centers in the country.
"On the heels of our latest round of equity financing from Ontario Teachers' Pension Plan and Warburg Pincus, this debt from China Merchants Bank is a testament to our ability to successfully execute on our strategy to build and deliver scale across APAC's fastest-growing markets," said Rangu Salgame, Chairman and CEO of PDG. "We are delivering on the capacity requirements our hyperscale customers seek, when and where they need it. It is core to our strategy to being the leading data center operator in APAC."
The company's ambitions are not limited to China. PDG announced in March that it is Princeton building a 48MW multi-story data center campus in Navi Mumbai (New Bombay), India. The greenfield campus will have two buildings and will be aimed at hyperscalers. It will be ready for service in 2022, according to the announcement from the Singapore-based APAC data center developer.