Polish University Akademia Górniczo-Hutnicza (AGH) has launched a new supercomputer.
The Krakow-based institution this month announced the launch of Athena, a 7.7 petaflops system at the academic computing center CYFRONET in its Podole data center in the southwest of the city.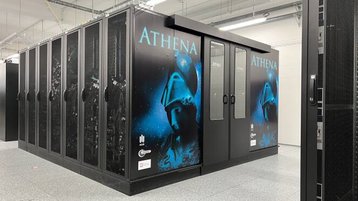 The supercomputer, from Polish firm Format and using 48 FormatServer THOR ERG21 servers, is equipped with 6,144 CPU compute cores featuring AMD Epyc processors and 384 Nvidia A100 GPU cards.
Professor Kazimierz Wiatr, Director of Academic Computer Centre CYFRONET, said: "Polish science and innovative economy really need our supercomputers. Sometimes people ask me whether one supercomputer is not enough? The answer is simple: firstly, the needs of users are enormous; secondly, each supercomputer has its specific purposes that stem from its architecture, the CPU it has, and the main memory architecture. The Athena supercomputer that we are launching today gets its computing power from GPGPU units. These are modern and extremely efficient Ampere A100 SXM3 graphics processing units from Nvidia. Athena's architecture is intended primarily for artificial intelligence calculations as well as medical applications, including the eradication of the COVID-19 pandemic."
The system ranks 105th on the Top500 list of most powerful supercomputer, but lands 9th in the Green500 ranking of most efficient systems.
CYFRONET also houses the Huawei-based Ares (3.5 Petaflops and launched in 2021) and HPE-based Prometheus (2.7 Petaflops, launched in 2015) systems, as well as several smaller clusters.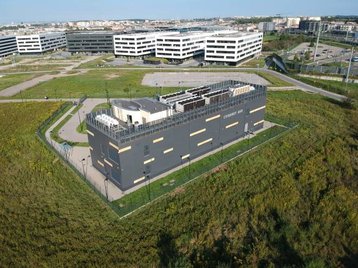 The Podole facility where Athena is housed re-uses the heat generated by supercomputers to warm the building.
"The Podole Data Center is a specialized building, designed and refined in every detail, as a place for the installation of large IT systems. Thanks to this, it was possible to place in it and then effectively use the huge infrastructure, the flagship of which is Athena," said Marek Magryś, Deputy Director of CYFRONET. "It would not have been possible to do without specially reinforced ceilings, a special technical floor, and advanced power, cooling, and air conditioning systems.
Poland goes quantum in Poznań
Poland is also set to house one of Europe's first quantum computing systems. Last week the European High Performance Computing Joint Undertaking (EuroHPC JU) selected Poland as a host for one of six planning quantum systems.
Poznań Supercomputing and Networking Center (PSNC) affiliated to the Institute of Bioorganic Chemistry, Polish Academy of Sciences (PAS) in Poznań, this week said it would be the host site for the Polish system. PSNC will be working with Creotech Instruments on the project.
"Choosing Poland and our center as one of the six European locations for this breakthrough classical-quantum supercomputer architecture shows that we have met all the entry criteria and have the relevant experience to build such a hybrid. We are very pleased to have managed to not only build a strong project consortium in partnership with the Polish scientific community and our business partner, Creotech Instruments, but also to involve experts specializing in quantum technologies from the Central and Eastern Europe region, including Latvia, Lithuania, Slovenia, Hungary, and Austria," says Krzysztof Kurowski, PhD Eng. from PSNC.
Poland joins Czechia, Germany, Spain, France, and Italy as hosts. In Czechia, a quantum system known as LUMI-Q will be installed at the IT4Innovations National Supercomputing Centre in Ostrava. The new quantum computers are expected to be available by the second half of 2023.