The 17-story Union Bank Tower in Portland, Oregon is being sold for conversion to data center space.
The tower has 179,000 sq ft (17,000 sq m) of space, and good power and networking connections. It's one block away from Pittock Block, Portland's main Internet exchange, and 18 miles form the growing data center hub of Hillsboro. It already contains some data center space a meet-me room and fiber links.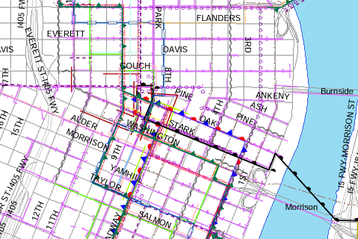 "Massive value-add potential"
Built in 1969 at 707 SW Washington St and SW Park Avenue, the tower is currently 72 percent leased to 30 office clients, though Union Bank moved out. Current owners, Melvin Mark Companies and Downtown Development Group say the property could be worth a lot more if converted to a data center.
"Now that the tower's namesake tenant has left the building, a new owner will have the generational opportunity to re-brand the asset, adding value in the process," said Buzz Ellis, managing director of the JLL Capital Markets Investment Sales Advisory team that is handling the sale.
Conan Lee, also a JLL managing director, said "Union Bank lies at a critical network junction that has enormous potential for future growth of new physical network infrastructure as well as IP peering. With capital allocations targeting alternative assets at all-time highs, now is the perfect time to present this iconic tower to the market."
Portland is now a strategic link between San Francisco and Seattle, and the tower is on the origin of the most popular routes to those cities, the 3Com Joint Trench and FTV Build. It also has good connections to the Mid West, East Coast, and the rest of the world. It already has 10 fiber-optic carriers terminating there through four entries in the underground parking garage.
A total of 18 existing data center tenants already exchange data in its meet-me-room.
At the start of 2021, JLL sold the Pittock Block Internet exchange and carrier to 1547 Data Center Real Estate Fund II - subsidiary of the 1547 data center group - for $326 million, with financing from investment group Harrison. JLL said this was the single biggest asset sale in Oregon for more than five years. At more than 300,00 sq ft, Pittock is a larger building than the Union Bank Tower.