The President of Ukraine is seemingly hoping to lure hyperscale data center firms to the country.
During his recent tour of the US, President of Ukraine Volodymyr Zelensky met with Apple CEO Tim Cook about "expanding Apple's presence in Ukraine."
"The parties also discussed the possibility of Apple building a data center for iCloud services in Ukraine, following the example of the center, which was built in Denmark," said a press statement from President Zelensky's office.
But it seems President Zelensky has further desires around data centers during his visit, which reportedly included plans to discuss potential data center projects from a number of the major US cloud providers.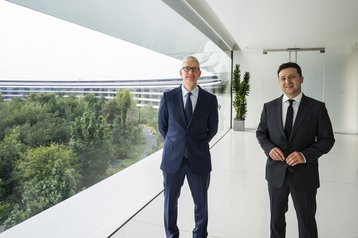 "In his Plan of Transformation of Ukraine for 5-10 years, Zelensky presented 80 projects worth $277 billion," said Oleksiy Honcharenko on Telegram. "Zelensky wants Amazon, Google and, Microsoft to build large-scale data centers in Ukraine."
The projects listed by Honcharenko include the construction of large-scale data centers with cloud services from Amazon/AWS, Microsoft Azure, Alphabet/Google Cloud; the construction of towers for mobile base stations along railway tracks; and the provision of zero-percent credit resources for the purchase of American-made telecommunication equipment by Ukrainian mobile operators.
A government source told Ukrainian news agency Interfax-Ukraine that the list had been prepared on the eve of the visit. However, according to the source, some changes could have been during the visit. Whether discussions were had with each of the cloud providers and the result of those talks are unknown.
Ukraine is hoping to become more IT & tech-friendly through its new Diia City initiative. According to Legal500, the project is a legal framework that will apply for at least 15 years nationwide to Ukrainian IT companies that will provide beneficial tax incentives.
Earlier this year DCD reported on plans by the Ukrainian Government to build large-scale data centers next to its nuclear power plants to host state documents and mine cryptocurrency.