Prince William County officials have delayed a vote on a data center development proposal.
This week the Prince William Board of County Supervisors unanimously tabled the application for the Devlin Technology Park until March 7 after a marathon meeting finishing at 3 am.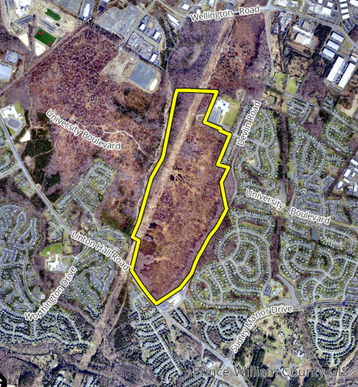 As reported by local press including Inside NoVa, the decision to delay came after the applicant, Stanley Martin Homes, preliminarily agreed to revise its proposed 4.2-million-square-foot data center campus in Bristow to re-include part of a previously-proposed residential plan on the property.
Virginia-based developer Stanley Martin is seeking to develop a data center park on more than 250 acres of land in Northern Virginia's Prince William County on a site it had previously earmarked for a housing development and adjacent to another upcoming data center development.
The company is asking to rezone 269 acres from planned mixed residential to light industrial zoning. The company was previously granted zoning approval for 1,079 single-family units in 2020.
The project, known as the Devlin Technology Park and located between Linton Hall Road and Devlin Road, could see up to 4.25 million sq ft (395,000 sqm) of development across up to 14 buildings. The county Planning Commission previously recommended approval for the rezoning request in August 2022.
Truett Young, vice president of land for Stanley Martin Homes Northern Virginia division, said the residential portion would support about 135 units. It is unclear how many square feet would be allowed for the reduced data center.
The board decided to delay the vote after the 11th-hour proposal changes.
"For Christ's sake, it's 2:01 in the morning and this is a big request," Supervisor Yesli Vega said. "To say we're going to make a decision on this, this morning, does not sound reasonable in my opinion."
Supervisor Jeanine Lawson noted the unusual and unprecedented measure of drastically changing the proposed land use in an application during a meeting.
"It's just not as easy as it sounds," she said. "This is a case that is completely changing on face and the board can and possibly should remand it to the commission."
During the extended meeting, more than 80 people spoke on the application, with all but four opposing it. Those in favor represented construction unions. An opposition group – Stop Bristow Data Centers – held a protest outside the Prince William County Administration Building.
In 2015, the Stonehaven development was pitched to bring 1,006 residential units and 1.1 million sq ft (102,200 sqm) of commercial space to 718 acres. The Stanley Martin residential proposal first came to the county's Planning Commission in September 2018.
At the time of the original 2020 rezoning, the property was owned by Edith Rameika, trustee of the EV Hunter Trust. Since then, Stanley Martin has reportedly acquired the property for nearly $51.3 million.
Rameika was also the owner of properties adjacent to the Devlin site land that was approved for data centers in September 2021; possibly for Yondr's upcoming campus.
Stanley‐Martin became part of Japan's Daiwa House Group in 2017. This Devlin project appears to be the US firm's first data center project, though Daiwa has previously been involved in such developments in Japan.