Italian energy and telecom cable specialist Prysmian has installed the world's highest fiber density cable. The 2112F cable derives its name from the 2,112 fibers it packs into its 24mm diameter sheath.
One of Australia's leading telcos TPG Telecom was faced with the challenge of drawing a cable through a subduct with an internal diameter of 28mm. The company wanted to maximise throughput and chose Prysmian to provide it using its FlexTube technology.
Pushing the boundaries
FlexTube was designed to be an extremely compact, lightweight and flexible cable but with a high fiber density. TPG was one of the first companies in Australia to test the original product and this relationship resulted in Prysmian's record-breaking cable density of 4.7 fibers per mm2.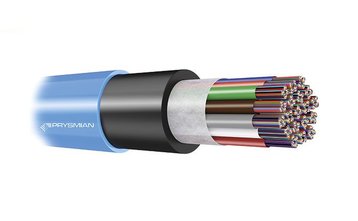 Reggie Naik, general manager of fiber operations at TPG, said, "We installed Prysmian's 1728F cable last year and this year we're up to 2112F in a single cable. The technology continues to develop and at TPG we're keen to utilise the latest cutting edge products to respond to the evolving needs of our customers."
A 1.8km section of the cable was deployed in Melbourne's Central Business District. The cable was spliced at both ends using Prysmian's high capacity joint enclosures. The special enclosures can house up to 2,688 fiber splices and have a modular design which enables them to be scaled up and down depending on the customer requirements.
"Prysmian continues to push the boundaries in terms of telecom solutions. We respond to market demand through innovation and currently the market is demanding higher capacity cables," Alice Codenotti, key account manager at Prysmian Australia said.
If you are interested in learning more about data center cabling systems register now to our next webinar.