American supercomputing specialist PSSC Labs has launched a blade server for High Performance Computing (HPC) applications, calling it the most energy-efficient device of this type on the market.
The Eco Blade range supports up to 128 Xeon cores in a single unit of rack space, and the company claims it consumes up to 46 percent less power than comparable hardware from other vendors.
Green science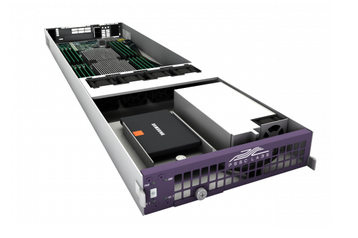 PSSC Labs is a family business established more than 25 years ago to build supercomputers for applications in physics research, astronomy and life sciences. The company designs and builds all of its products at its headquarters in Lake Forest, California.
Each Eco Blade consists of two individual servers with up to 64 Xeon E5-2600v4 cores and up to 1TB of memory on board, as well as two SSDs for the operating system. Network connectivity options include 10GbE, 40GbE and 100GbE, with support for Mellanox Infiniband and Intel Omnipath fabrics.
The servers don't share a power supply or backplane, and according to the press release, this somehow translates into power savings of up to 46 percent, on a per server comparison "with servers of similar capabilities from leading brands."
The power supplies used in every Eco Blade promise efficiency of more than 90 percent, and there are other power saving features added to bring the overall energy consumption down.
"As an industry, it is our responsibility to find ways to reduce power consumption while still providing the computing ability needed to fuel cutting edge research and groundbreaking enterprises," said Alex Lesser, vice president of PSSC Labs.
"PSSC Labs has taken a big step in engineering a HPC / data center server that does not compromise on performance but will significantly reduce power consumption. By deploying the Eco Blade server instead of traditional servers from other manufacturers, companies will reduce their cap ex and op ex while being good stewards of the environment."
Prices for custom-built Eco Blade servers start at $2,299.