APAC logistics firm LOGOS and Pure Data Centres will build a new data center in Jakarta, Indonesia.
The 20,000 square meter (215,000 sq ft), 20MW project is already under construction and will be ready for customer operation in Q1 2022.
LOGOS owns, develops, and leases logistics properties across Australia, China, Singapore, Indonesia, Malaysia, Vietnam, India, and New Zealand. Its investors include fund manager ARA Asset Management, Canadian real estate firm Ivanhoé Cambridge.
"We are very pleased to be welcoming our new data center partner, Pure, as we push ahead with our investment in this growing sector," said LOGOS MD, Stephen Hawkins. "Existing logistics properties are, in many cases, well-suited to accommodate the mix of power and network fiber connectivity supporting data center businesses, and our new data center is a great example of this."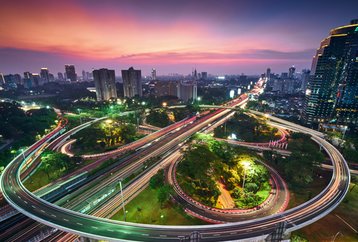 LOGOS said its move into data centers is in response to its capital partners' interest in the sector and strong demand from customers across APAC. LOGOS CEO Trent Iliffe said the company believes there are "many opportunities across the region" for further data centers.
The new facility is Oaktree Capital Management-backed Pure's first move into Indonesia. Established in 2015 in London, UK, the company has over 250MW of capacity under development across Europe, Asia, the GCC, and Africa.
"We are very pleased to be entering the Jakarta data center market with a new hyperscale build alongside our partner, LOGOS," said Pure's CEO, Martin Lynch.
"Jakarta's large population of internet users, rapidly growing economy and stable of tech 'unicorns' make it one of the most exciting global markets for us. We have confidence in the growth of cloud services in this market and are pleased to help facilitate our customers' continued expansion here."