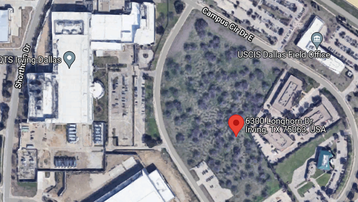 The $180 million project, set to start this month and complete by the end of 2023, will see the company construct a 337,190 sq ft data center building with office space, storage, critical power support spaces, and a screened equipment yard. Corgan is listed as the design firm for the project.
The site is on undeveloped land located on the opposite side of the road from QTS' existing Irving campus. The company is yet to comment on the development.
QTS's existing 55-acre Irving facility, at 6431 Longhorn Drive, offers 147MW of capacity. DC1&2 span 700,000 sq ft and offer 75.2MW of critical power, with DC spanning 415,900 sq ft and offering 43MW.
Earlier this year the company filed with Texas to expand its Dallas-Fort Worth data center campus at 14100 Park Vista Blvd in Tarrant County.
This year, QTS – which was taken private last year after being acquired by Blackstone – has filed to expand its existing campuses in New Jersey and Virginia, as well as the DFW site.
It has also bought a data center in Denver and acquired land in the Netherlands, Arizona, and Georgia, the latter for a massive campus.
The company is also involved in a massive 800-acre project in Virginia's Prince William County.
More in Construction & Site Selection