Blackstone-owned QTS Realty has arranged the refinancing of four of its data center properties.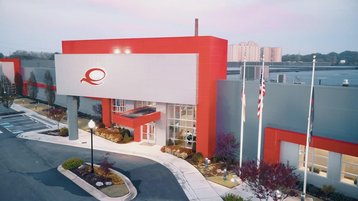 The loan comes from a consortium of four banks and is led by Citigroup. It will be used to refinance QTS' existing debt of $667 million and provide the funds needed to finance built-outs for incoming tenants.
The refinancing is being provided as a commercial mortgage-backed securities (CMBS) offering and, while covering four data centers, is largely based on the two Loudoun County data centers known as the Ashburn-Shellhorn data centers. Between them, the data centers span 618,000 sq ft (57,400 sqm) and of the 80MW of IT capacity, 99.5 percent has been leased to 28 separate tenants.
The CMBS offering, titled BX 2023-VLT2 is a single asset, single borrower transaction.
The other two properties included are a data center in San Antonio, Texas, and a mixed-use development in Atlanta, Georgia.
Credit rating company DBRS Morningstar said of the transaction: "Data centers, while having existed in one form for another for many years, have become a key component in the modern global technology industry.
"From the standpoint of the physical plants, the data center assets are heavily powered with over 80MW of critical IT load. DBRS Morningstar views the data center collateral as strong assets with a strong critical infrastructure, including power and redundancy that is built to accommodate technology needs of not only today, but also well into the future."
Data center securitizations this year have already surpassed $3 billion, twice as much as in 2022. March saw Stack securing $250 million of financing in securitized notes and in April this year, CyrusOne issued $701 million in CMBS with its Virginia and Texas data center while Cologix closed a $144.7 million securitization of its assets that same month. According to CoStar, this puts data centers at 10 percent of all CMBS activity this year.
QTS has a total of 36 data center properties in its portfolio which combined for a total of 1,200MW across the United States and Europe.