With D-Wave going public earlier this month, there are now three publicly-listed dedicated quantum computing companies. All three this week posted their quarterly earnings reports for Q2 2022.
All three posted losses for the quarter, with IonQ the only firm to see those losses narrow.
D-Wave announced a new prototype for its next quantum computer, while IonQ launched a new system on Microsoft Azure. Rigetti deployed its first system in the UK and expects to launch on Azure this year.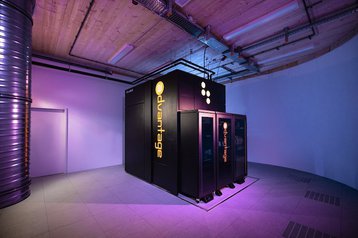 D-Wave: First quarterly results as a public company, first quarterly loss
D-Wave announced its first earnings since going public via a SPAC merger with DPCM Capital, Inc. earlier this month.
The company posted Q2 2022 Revenues of $1.37 million, up 21 percent from $1.14 million compared to Q2 2021. Gross profit for the quarter was $785,000, but operating expenses increased more than $2.75 million to $12.77 million
Net loss for the second quarter of fiscal 2022 was $13.2 million; adjusted EBITDA for the second quarter of fiscal 2022 was a $10.8 million loss.
Its revenue forecast for the year is expected to be in the range of $7-9 million, while Adjusted EBITDA is expected to be less than negative $49 million. The revenue estimate is slightly lower compared to its SPAC prospectus, but so are the predicted losses.
"We are pleased to report our first quarterly results as a public company. Since the beginning of the year, we have achieved a number of important milestones. In addition to successfully transitioning to a publicly listed company, in the face of a very challenging and volatile market, we continue to expand our customer base with over 95 total customers as of the end of the second quarter, over 55 of which were commercial organizations; launched an updated quantum-hybrid solver; expanded our Leap quantum cloud physical footprint into the United States and Europe; and provided our customers with access to a prototype of our Advantage2 system, showcasing the power of our upcoming 6th generation quantum computer," said Alan Baratz, CEO of D-Wave.
"Our commercial momentum is propelled by the new use cases that we are developing with our customers, and we look forward to continuing to unlock the power of quantum-hybrid value for a growing number of use-cases in the coming months and years."
This quarter also saw the company announced its sixth-generation quantum system, Advantage2. The new prototype has 500+ qubits, woven together in the new Zephyr topology with 20-way inter-qubit connectivity; the full system is scheduled to be available in 2023-2024 and feature 7,000 qubits.
In June D-Wave entered into a common stock purchase agreement with Lincoln Park Capital Fund, LLC to issue and sell up to $150 million of commons stock shares over a three-year period.
It recently signed a deal with Mastercard.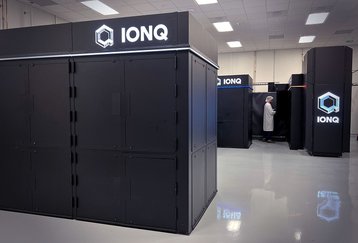 IonQ: Launches Aria on Azure, reduces losses
IonQ recognized revenue of $2.6 million for the second quarter, compared to $93,000 in the prior year period. Net loss was $1.7 million and adjusted EBITDA loss was $11.6 million. The results include a non-cash gain of $16.1 million for the second quarter related to the fair value of a warrant liability.
For Q1 2022, IonQ recognized revenue of $2 million: Net loss was $4.2 million and adjusted EBITDA loss was $10.3 million.
Q2 2022, the firm's total operating cost and expenses for the second quarter were $21.5 million, up 114 percent from $10.1 million in Q2 the previous year.
"We are thrilled to share the progress we made in the second quarter," said Peter Chapman, President and CEO, of IonQ. "I am excited to announce that we are bringing to the cloud a computer that is over 130,000 times more computationally powerful than our previous cloud offering, as defined by the useful computational space. IonQ Aria has achieved a record-breaking 23 algorithmic qubits, representing an 8x increase in Aria's power and further cementing its lead as the most powerful known quantum computer in the world."
The company achieved bookings of $600,000 and signed deals with Airbus and chemical firm Dow. It also signed a formal agreement to collaborate with the University of Maryland on a project for the National Science Foundation: IonQ will build and host a quantum router as a part of a new quantum network project, the Mid-Atlantic Region Quantum Internet. The company is also working with Zapata Computing on a 'multi-million dollar DARPA project.'
IonQ said it has identified a facility in Seattle, Washington, to host its first assembly lines for manufacturing quantum computers. It will likely be used to build the Forte systems, rather than Aria or other predecessor machines.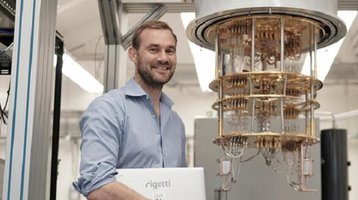 Rigetti: Revenue up, losses up
Rigetti Computing's revenue for the second quarter of fiscal year 2022 was $2.1 million, up 39 percent from $1.5 million in the prior year period.
Total gross profit for the quarter was $1.3 million, with a Net GAAP loss of $10 million, both flat from Q2 2021. Adjusted EBITDA for Q2 was a loss of $15.1 million, versus a loss of $8.1 million in Q2 2021.
In Q1, the company reported gross profits of $1.7 million, net GAAP loss of $10.5 million, and an Adjusted EBITDA loss of $13.9 million.
GAAP operating expenses for the second quarter of 2022 were $26.9 million, more than doubling from Q2 2021's $10.9 million.
"We delivered against our core objectives for the second quarter 2022 results, advancing our product roadmap, continuing to attract key talent, and strengthening our base of customers and partnerships," said Chad Rigetti, founder and CEO of the Company. "Our technical teams made tremendous progress in the second quarter, and we remain on track to meet our anticipated roadmap milestone previously announced in connection with our first quarter 2022 earnings results. We also deepened existing relationships and won new deals in the UK and US as we continued to work hand-in-hand with top organizations in pursuit of quantum advantage."
Rigetti has entered into a $75 million committed equity facility with Riley Principal Capital II, LLC: under the agreement, the company has the right, without obligation, to sell and issue up to $75 million of shares of its common stock to B. Riley over a 24-month period.
CEO Rigetti said: "We believe this facility should provide us financial flexibility to support our focus on our mission and business objectives. Furthermore, in the current uncertain macro environment, we believe entering into this facility is prudent."
The company said a $4 million contract with a government entity is delayed: Rigetti said the contracting process "has taken longer than anticipated" despite some work already being done and costs being incurred.
This quarter, Rigetti announced the launch of its 32-qubit Aspen-series quantum computer in the UK; its first system in the country. Its customers in the UK include Oxford Instruments, the University of Edinburgh, Phasecraft, and Standard Chartered Bank.
The company said it expects to announce public access to Rigetti systems on Microsoft Azure in the coming months.