Rack Centre's Lagos Nigeria data center has been awarded an "EDGE" green building certificate.
The Nigerian colo says its facility is the first data center in Europe, Middle East and Africa to get the EDGE, is issued by the International Finance Corporation (IFC) and stands for "Excellence in Design for Greater Efficiencies".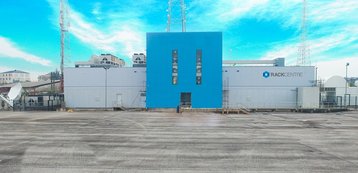 Rack Centre operates a carrier-neutral Tier III data center in Lagos, Nigeria, and was acquired by Actis in 2020.
The certificate recognizes the building's savings in energy and water use, which were included in an expansion, which will take the building's IT load from 1.5MW to 13MW. When the expansion is complete, Rack Centre expects to have achieved 35 percent energy savings, saving 100 tonnes of carbon emissions per year. It also expects to save 41 percent of the water used, and a 45 percent saving in embodied energy in building materials.
The green developments have happened through Actis' finance since the acquisition as part of a $250 million African data center platform investment.
As this is the first data center to get the IFC EDGE certificate, Actis helped IFC develop an assessment tool specifically for data centers.
Among other things, Rack Centre will switch from diesel to gas power generation and will implement water-efficient cooling systems, and a low-energy air circulation system. It will also source local materials and services wherever possible. Switching its power source from diesel to gas power will reduce carbon intensity and improve air quality, while saving more than $10 million a year in operating costs.
"At Rack Centre, we have had a track record of setting the standard for Power Usage Efficiency in the region," said Ezekiel Egboye, Rack Centre Chief Operations Officer."Sustainability is at the core of what we do and a quest that permeates through all of our actions.  We are delighted to be the first to be certified in Europe, Middle East, and Africa.  Another first in the region, Rack Centre was the first carrier-neutral colocation provider in Africa to be Tier III Constructed Facility Certified, and has grown the most comprehensive interconnection and limitless peering ecosystem of over 40 carriers and ISPs, also bringing about interconnect efficiencies."
"Meeting Africa's ever-growing demand for critical digital infrastructure must be achieved as sustainably as possible," said Kabir Chal, Director of Actis' Africa Real Estate team."We plan to implement similar improvements across future investments made by our pan-African data center platform to help the continent secure a low carbon data revolution."
"It has been a hugely rewarding process to work in partnership with Actis to develop this EDGE assessment tool for data centers," said Vivek Pathak, Director for Climate Business Department at the IFC. "We hope other data center operators will follow in Rack Centre's footsteps and take the necessary action on the digital economies environmental impact by becoming IFC EDGE certified."
Actis has signed up to the Net Zero Asset Managers Initiative, and has committed to align its portfolio to Net Zero by 2050. Outside of data centers, the company Actis already has ten green certified buildings in locations including Accra, Douala, Lagos, and Nairobi.