US real estate investment firm PRP is diversifying away from office properties to increase focus on industrial and data center assets.
According to BisNow, the DC-based company has closed sales of office properties in Arlington, Virginia, and Austin, Texas, and is in the process of selling properties in Dallas and Gaithersburg, Maryland.
The company plans the proceeds towards its goal of spending $2 billion acquiring logistics and data center properties in the US.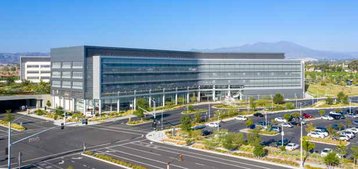 The company is reportedly targeting 'primary and secondary markets', but is looking in the greater DC areas – including Northern Virginia – and aiming to have hyperscalers such as Microsoft and AWS as tenants.
As well as offices including Broadcom's headquarters in Irvine, California, PRP currently lists a number of industrial buildings on its online portfolio, including one data center in Sterling, Loudoun County. The site – a former aircraft maintenance facility acquired from an Airbus subsidiary – is leased to AWS and has since been sold to the CalSTERS retirement fund.
"The logistic and data center sectors remained highly resilient throughout the pandemic and continue to grow at rates well in excess of inflation," said PRP Managing Director of Net Lease Acquisitions Joe Neckles. "The assets that we are acquiring are located in attractive markets backed by solid demographics, high barriers to entry, and historically high industrial occupancy rates."
In Arlington, PRP sold the three-building, 370,000 sq ft Sequoia Plaza office complex to Boyd Watterson Asset Management while in Austin, the company sold an office and lab building. In Gaithersburg, PRP has sold the Two Washington office building currently leased to Leidos. In Dallas, the company is in the processing of selling a 1.1 million sq ft office building that serves as the headquarters of Pioneer National Resources.
PRP aims to raise more than $1 billion from the sales, which it will reinvest into data centers and industrial acquisitions.
The company still retains a number of office properties and said it remains committed to the office sector, but is looking to diversify its portfolio with real estate in sectors that have performed well during Covid-19.