The Royal Air Force Menwith Hill base in North Yorkshire, England has long been known to have some involvement in communications and intelligence support services for the United Kingdom and the United States military.
Now, thanks to recently released documents from Edward Snowden, we have a better idea about the scale of signals intelligence activities taking place at the site, and the data center infrastructure required to support it. Specifically, we know that the NSA built its first Tier III infrastructure, a 10,000 sq ft (923 sq m) data center, on the RAF base in 2011.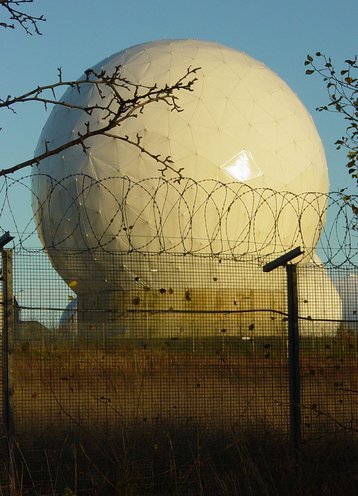 The hills have eyes
While a lot of the National Security Agency's spy outposts are focused on tapping into the world's network of submarine cables (as well as working with AT&T and Verizon), Menwith Hill has specialized in monitoring communications sent between foreign satellites and wireless communications on the ground, such as cellphone calls and WiFi traffic.
Documents obtained by The Intercept note the NSA's efforts to acquire global communication data. 
A 2006 report states: "The commercial satellite communication business is alive and well and bursting at the seams with increasingly sophisticated bulk (Digital Network Intelligence) traffic that is largely unencrypted. This data source alone provides more data for Menwith Hill analysts to sift through than our entire enterprise had to deal with in the not-so-distant past."
Targets included the People's Republic of China, Latin America and North Africa, but a particular focus was on Afghanistan and Pakistan, with the use of such satellites as the Orion and Nemesis spacecraft. 
Mission 7500 satellites "collect strategic and tactical military, scientific, and economic communications signals," while Mission 7600 satellites have "continuous coverage of the majority of the Eurasian landmass Africa."
All the data was stored at Menwith Hill "in real-time for processing, recording and/or dissemination as required." How much of that data was recorded is unknown, but a May 2011 example cites 335,663,981 metadata records stored in the span of 12 hours.
To store all of this, more than $40 million was spent at the Menwith Hill Station (MHS) between 2009 and 2012 on a new 95,000 sq ft operations building that included a 10,000 sq ft data center, codenamed Phoenix.
"The new operation building will provide NSA's first Tier III equipment room, meaning that the most critical mission systems will be protected by redundant power and cooling supplies; significantly reducing the risk of mission loss as a result of a power anomaly," a 2010 document says.
A 2011 document adds: "The Phoenix data center will provide an additional 10,000 square feet of rack space with fully redundant power and cooling infrastructure."
Elsewhere, it says: "The Phoenix data center increases the equipment room footprint at MHS by 30 percent," which would suggest that there was an existing facility of roughly 7692 sq ft on the site.
Other facts noted include: 758 tons of steel were used in the construction, over 4,000 tradespeople were involved, 957,070 hours of work were logged, and over 182 miles of cable and fiber were installed.
In 2014, Stars and Stripes reported that 500 servicemembers and civilians were cut from the facility due to technological streamlining. Captain Michael Hertzog II said: "It's fairly consistent with.. what's been going on across the spectrum… as we improve everything from… server capacity to the hardware that we're using; we're doing more with less."
Data recorded and processed at the facility was used to locate individuals that were sometimes killed by US drones, or captured, in countries including Yemen, Somalia, Pakistan, Afghanistan and Iraq, The Intercept's Ryan Gallagher reports.
The base is run by both US and UK personnel, although the majority are thought to be from the US. Agencies active at the site include the NSA, the US' National Reconnaissance Office and the UK's GCHQ.