Yandex is reportedly close to being acquired by a group of Russian oligarchs.
Billionaires Vladimir Potanin and Vagit Alekperov have bid for a controlling stake in the search engine Yandex NV, according to Bloomberg, which cites unnamed people familiar with the matter.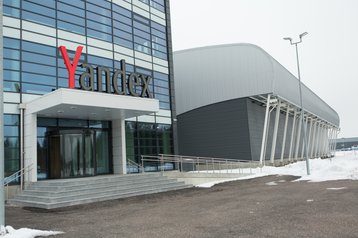 The deal would reportedly value the company at around $7 billion to $7.5 billion, and see the consortium acquire at least a 51 percent stake in Yandex's Russian business. At its peak, the company was valued at $30 billion.
While Yandex's holding company has technically been based in the Netherlands for more than a decade, the company's Russian ties have left it exposed to the fallout from the war in Ukraine. It has sold off a number of units and company co-founder and CEO Arkady Volozh resigned after being targeted by EU sanctions.
The company has also been delisted from the New York Stock Exchange, and is currently facing de-listing from the Nasdaq. It is reportedly looking to spin off many of its international businesses away from the Russian entities.
The company posted revenues of 14.1 billion rubles for Q1 2023, but an Adjusted EBITDA loss of 11 billion rubles. Net income was RUB 5.8 billion.
Bloomberg reports the Kremlin will need to sign off on the final group of buyers, so the board's decision will be treated 'as a recommendation'. However, Meduza reports President Vladimir Putin has already agreed on the sale to the prospective buyers.
Meduza reports steel magnate Alexei Mordashov and VTB Bank are also part of the bid.
Vladimir Potanin is owner of conglomerate Interros Holding. Alexey Mordashov is the main shareholder of Russia's largest steel and mining company, Severstal. Vagit Alekperov is the founder of oil company Lukoil. VTB Bank is a Russian majority state-owned bank, and is already a minority shareholder in Yandex.
Other buyers reportedly looking to join the consortium include the owner of Russian gas company Novatek, Leonid Mikhelson; former owner of Chelsea Football Club and minority shareholder of Yandex, Roman Abramovich; and Yuri Kovalchuk, a close friend of Putin and reported his 'personal banker'.
The state-owned Russian Direct Investment Fund was bidding for the opportunity to invest in the tech company, as is steel magnate Victor Rashnikov.
A fund of managers made up of Yandex's executives may become the largest voting shareholder of the company to serve as a "collective replacement for Volozh" in making managerial decisions.
Potanin, Abramovich, and Alekperov are all under sanctions in the UK, and the former two are also under US sanctions.
Abramovich's press office told Bloomberg he was not negotiating the purchase of any shares. The rest of the interested parties declined to comment.
More in Cloud & Hyperscale