Russia's Ministry of Internal Affairs has been unable to find a colocation provider amid a data center capacity crunch in the country.
Cnews.ru report that not a single application was submitted during the tender process.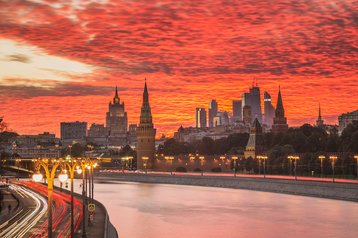 The Ministry was looking to secure at least 100 rack spaces in the Central Federal District or the Northwestern Federal District for around 24 months. The contract was valued at around 698.7 million rubles ($11m).
The contract is seemingly a temporary solution while a new government facility is constructed. In 2021, Prime Minister Mikhail Mishustin signed a government decree on the allocation of funding for the Ministry of Internal Affairs for the construction of a data center, to be located in Moscow on Pomorskaya street, and completed in 2024.
The tender was published on September 3 in the format of an electronic auction. At the end of the auction the same month, no applications were submitted.
Russia is facing a capacity crunch due in part to sanctions, which has seen several projects delayed or canceled. Sanctions are also limiting the amount of available IT hardware in the country, making it harder to occupy what space might be available.
In April, Cnews reported there were just 800 available racks across the Moscow region. Colocation prices are increasing as a result, reportedly up more than 7 percent in Moscow and more than 2 percent in St. Petersburg.
Rostelecom has halted several projects around the country. Some local operators have said they are or would consider building facilities outside the country - yet continue serving Russian companies - in order to avoid supply chain issues.
Previous reports suggest the Russian government is thought to be preparing to buy out all the capacity at commercial data centers (potentially including IT already contracted out), and take over the IT resources of companies that have announced their withdrawal from Russia.
This month also saw the Ministry of Digital Transformation announce certain employees of IT companies will be exempted from conscription amid the country's mobilization of more troops to Ukraine.
Developers of software and databases, developers of PACKs, electronic modules, computer equipment, computer technology, network, telecommunications and peripheral equipment, Internet of things devices, developers of robotics technologies and sensors, designers of systems using blockchain, and creators of Internet sites are amongst those granted exemptions.
This week also saw Russian modular data center firm GreenMDC has moved to a new production site more than double the size of its previous facility. The new site is located in the Leningrad region, in the urban village of Fedorovskoye, Tosnensky district, on a 1.5-hectare plot
"This year we are seeing an almost two-fold increase in orders from both commercial companies and government customers. At the same time, demand for scalable solutions in the 30-200 rack segment has increased, which indicates the demand for prefabricated data centers of this size. I believe this is due to the awareness of the great importance of the time factor (when using prefabricated solutions, the creation of a data center for 30-200 racks will take no more than 7-8 months), as well as the high quality of products, which can only be ensured in production conditions. Therefore, we decided to move to a new production site, the area of ​​​​which is almost 2.5 times larger than the previous one. This will allow us to increase both the size and the number of products produced at the same time. A large area of ​​the site will provide an opportunity to develop in the future," said Fedor Klimenko, CEO of GreenMDC.