Salesforce has agreed to buy into a new kind of renewable energy certificate (REC) which delivers power to energy-poor people in India and sub-Saharan Africa.
The cloud software company has committed to buy 280,000 MWh of distributed renewable energy certificates (D-RECs) which put money into small distributed off-grid energy projects, which provide reliable renewable power to energy-poor communities in emerging markets. The finance is aggregated by Powertrust.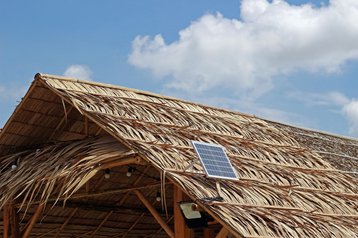 Around the world more than 750 million people lack basic electricity, according to The World Bank, while 2 billion more have unreliable access, in areas such as Brazil, India, sub-Saharan Africa and Southeast Asia. Many use polluting, climate-harming fossil fuels. Access to affordable clean energy for all is one of the UN's 17 development goals, but has seemed a distant goal, as it is difficult to finance projects.
Large corporations are increasingly using their financial power to finance the development of renewable energy, through RECs and power purchase agreements (PPAs), which can be counted towards their own goal of achieving "net-zero" by offsetting all the emissions produced by their own electricity use.
Financing this energy is difficult, and suffer from inadequate and unreliable access. Distributed renewable energy projects can provide much-needed access to electricity and help reduce emissions in communities around the globe. However, until now, emerging countries have been largely excluded from corporate purchasing for a number of reasons, including difficulty aggregating and certifying multiple small-scale projects. 
D-RECs were created by the not-for-profit D-REC Initiative based in Switzerland, and have been backed by organizations including the Shell Foundation, Microsoft, and the UK's Foreign, Commonwealth, and Development Office, and formally launched in December 2022.
Saslesforce's purchase, announced at the GreenBiz 23 event in Scottsdale, Arizona, is the first substantial purchase of D-RECs. The total of 280GWh over eight years averages out at about 4MW.
This is small compared to Salesforce's total energy needs. The company bought nearly 800 GWh of renewable energy in 2022 alone, through multiple PPAs. It announced in 2022 that it was using 100 percent renewable energy.
"Nearly 95 percent of corporate renewable energy purchases today take place in North America and Europe. We need to ensure the rest of the world isn't left behind," said Megan Lorenzen, who leads power sector decarbonization for Salesforce.
The D-RECs aim to support projects in non-traditional markets, some of which include:
Brazil: Replacing old diesel generators with a solar-powered microgrid for a remote community of 1,000 along the Amazon River, reducing fuel consumption by more than 50 percent.
India: A solar-powered microgrid brings electricity to an isolated mountain community in Nagaland for the first time.
Sub-Saharan Africa: A solar and storage installation at a hospital, powering ventilators, organ support equipment, and operating rooms.
Southeast Asia: A solar microgrid in Borneo, Malaysia, paried with a micro-hydro installation for reliability.
"Salesforce was instrumental in the development of this high-impact procurement approach," said Nick Fedorkiw, CEO, Powertrust. "However, the impact of this commitment goes far beyond Salesforce's purchase. Companies across the globe have an appetite for high-impact renewable energy purchases and can't find the supply they need. Now, as proven by Salesforce, companies can open up new sources of supply while maximizing social impact."