Apple is loaning satellite firm Globalstar $252 million as part of its roll-out of direct-to-phone emergency satellite services.
In a February 28 SEC filing first reported by SpaceNews, Apple is loaning Globalstar the money as a pre-payment to launch a new fleet of Low Earth Orbit (LEO) satellites.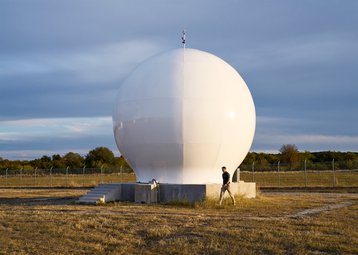 "The Prepayment replaces the company's requirement to raise third-party financing... and will be funded on a quarterly basis, subject to certain conditions in the agreement," Globalstar said. "The remaining amount of the satellite costs is expected to be funded from Globalstar's operating cash flows."
Repayment to Apple is set to begin 'no later' than Q3 2025 and be repaid in installments across 16 quarters.
In September 2022, Apple announced new emergency SOS services for its latest iPhone, enabling users to send emergency SOS alerts outside the reach of cellular networks from remote locations via Globalstar satellites. The service has launched in US and Canada as well as France, Germany, Ireland, and the UK.
At the time of the original announcement, Apple said it would pay for 95 percent of the approved spend for the satellites, with Globalstar raising additional debt capital for the development and launch of new satellites.
Last year Globalstar paid $327 million to Canadian company Macdonald, Dettwiler, and Associates Corporation (MDA) for 17 new 500kg satellites for an 'unknown potential customer,' which appears to be Apple. SpaceNews notes the machines are set to launch in 2025 and the deal with MDA includes an option for up to nine additional satellites at $11.4 million each. Apple is set to be allocated up to 85 percent of the new satellites' capacity, with the rest set to be used for Globalstar's legacy connectivity services.
As part of the roll-out, some of the $450 million investment from Apple's Advanced Manufacturing Fund will go towards the expansion and enhancement of Globalstar ground stations in Alaska, Florida, Hawaii, Nevada, Puerto Rico, and Texas. New antennas designed and manufactured specifically for Apple by Cobham Satcom have been installed at all of Globalstar's worldwide ground stations, including new sites in Reno, Nevada, and Hawaii.
Launched in 1991 as a joint venture of Loral Corporation and Qualcomm, Globalstar's first-generation constellation consists of 48 LEO satellites, with an additional four satellites in orbit as spares, while its second-generation comprised 24 machines. The company operates 24 ground stations.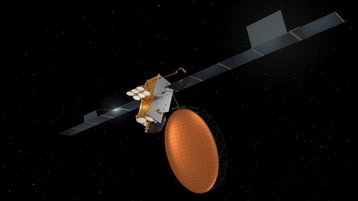 Viasat–Inmarsat merger gets OK in UK, EU to investigate further
The ongoing merger between satellite operators Viasat and Inmarsat is progressing but still faces hurdles. Viasat first announced plans to acquire Inmarsat for $7.3 billion in November 2021.
The companies recently said the UK Competition and Markets Authority concluded that Viasat's proposed acquisition of Inmarsat 'will not substantially lessen competition.' The news follows the opening of an in-depth Phase II investigation in October 2022.
In Europe, however, the EU Commission's Directorate-General for Competition has referred the proposed acquisition for Phase 2 review. The Commission said it was "concerned" that deal could reduce competition around broadband in-flight connectivity (IFC) services for commercial airlines.
Last month Inmarsat launched its I-6 F2 satellite into orbit. The new satellite will expand the company's Orchestra communications network. F2's twin I-6 F1 launched from Japan in late 2021 and is scheduled to connect with its first customers later this year. Both include L-band (Elera) narrowband and Ka-band (Global Xpress) broadband communications payloads.
Viasat, meanwhile, has announced plans to partner with Ligado Networks and Skylo Technologies for satellite services. The deal aims to add Skylo's technology for 3GPP Release-17 NTN industry-standard waveforms and spectrum to Ligado's SkyTerra satellite network. The companies intend to launch commercial services in 2023.
Globe tests Lynk satellite services in the Philippines
Filipino telco Globe is testing direct-to-cell services with Lynk Global. Globe this month said it was testing Short Messaging Service (SMS) and emergency alerts in partnership with Lynk.
During a February field trial in Bataan, standard mobile phones connected directly to Lynk's LEO satellites and successfully sent and received text messages. The satellite was also able to broadcast an emergency message to the phones registered to the Lynk network.
"Globe is exploring new satellite technology solutions to reach more people, especially in far-flung areas that do not have any terrestrial network coverage. There are still places within the archipelago where people can benefit from additional mobile coverage," said Gerhard Tan, director and head of network strategy and technology enablement at Globe.
This year Lynk said it has conducted successful trials in Mongolia, Palau, New Zealand, and Antarctica, and has partnered with Telecel Centrafrique SA for demonstrations in the Central African Republic.
Lynk also recently announced plans to partner with IoT firm Emnify, providing connectivity to the latter's customers via Lynk's satellites.
Vodafone partners with AST Spacemobile in Spain
Vodafone Spain has announced plans for a series of pilot projects this summer to test voice and data services with AST SpaceMobile to verify direct-to-device 5G, 4G, and 2G connectivity via satellite in Spain.
AST aims to establish a satellite command center for traffic management in the Mediterranean in Spain, to be managed by Vodafone Spain. Vodafone is a major investor in AST.
"It is a revolutionary solution that could complement traditional coverage and is perfectly suited to the home and business scenario in rural Spain. Our aim is to ensure that everyone has access to the services and benefits of a digital society, no matter where they live," said Julia Velasco, director of Vodafone Spain network.
"We believe that SpaceMobile is the most technologically advanced solution in this nascent technology. Therefore, we are proud to be pioneers in Spain and carry out pilot tests here, where the first call between AST SpaceMobile and a standard 4G terminal is expected to take place. in Europe, as well as tests in maritime corridors," added Yago Tenorio, director of strategy and network architecture of the Vodafone Group.
Rivada Space places order for 300 LEO satellites
Rivada Space Networks has contracted American manufacturer Terran Orbital to produce 300 Ka-band satellites for its planned LEO satellite constellation.
Rivada Space Networks GmbH was only formally launched in March last year by Irish wireless technology entrepreneur Declan Ganley. It's part of the Rivada Networks Group which specializes in wireless technology. The company announced plans for a satellite fleet after acquiring majority control of Trion Space, a Liechtenstein company that owns spectrum rights with the ITU.
The machines will be manufactured by Terran Orbital subsidiary Tyvak Nano-Satellite Systems. Rivada said deployment will start in 2025, with 300 satellites (288 plus 12 spares) by mid-2026. The constellation will reportedly offer 'fiber-like low latency' and gigabit-per-second data delivery. The company eventually plans to roll out 600 satellites.
Clemens Kaiser, Rivada Space Networks chief program officer, said: "We are delighted that today we have completed another major milestone in the development of our unique constellations to enable secure, global connectivity for governments and enterprises."
He added: "The timeline was extremely tight, and I wholeheartedly congratulate our team and our industry partners. This demonstrates that we have the right technology in place to sustainably move RSN from concept to reality and that our chosen satellite manufacturer has the required combination of experience, agility, and innovation to deliver these cutting-edge global satellite constellations. We are really looking forward to moving to this next phase of our program to manufacture and deploy our LEO constellations."
"We are thrilled to start this new chapter with Rivada Space Networks," added Terran Orbital co-founder, chairman, and CEO Marc Bell. "Both Terran Orbital and Rivada are committed to propelling and shaping humanity's future in space. The fruits of this partnership will be truly out of this world. We are humbled by Rivada's trust and look forward to building out their game-changing LEO constellation."
Seradata notes the company is under a tight deadline to launch before its ITU permissions expire.