Hyperconverged infrastructure vendor Scale Computing and power distribution specialist APC have partnered to launch a range of all-in-one micro data centers for the North American market.
These products include servers, networking equipment, a UPS system and a rack system, along with fully automated management software, making them especially suitable for edge computing in remote locations.
A similar product was previously available in the EMEA region.
The age of convenience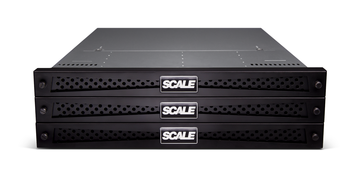 APC is a subsidiary of global energy specialist Schneider Electric. The new 'Micro Data Center in a Box' is based on Schneider's micro data center enclosures and servers from Scale.
The servers are managed using the company's proprietary HyperCore software – according to Scale, it continuously monitors all virtual machines, software, and hardware components to detect and automatically respond to common infrastructure events and maintain application availability.
The partners say the product offers an IT solution that has been pre-tested, features built-in redundancy, can be deployed quickly, and managed by staff with minimum amount of IT expertise.
"One of the biggest challenges faced by businesses today is how to simplify edge IT environments, where resources and staffing are often quite different," Jeff Ready, CEO of Scale Computing, said.
"Deploying our Micro Data Center in a Box gives organizations the flexibility to quickly scale capacity and computing power at the edge, while eliminating the complexity of managing separate hypervisors, backup software, and disaster recovery software. This fully integrated solution saves time, money and resources, which will be a game changer for these edge and remote environments, and for those channel partners and MSPs who serve them across the world."