Energy equipment company Schneider Electric has launched a rack-mounted cooling system that distributes cooling to any part of the data entry.
The new Uniflair product circulates DX coolant to a 5U high module which is installed at the bottom of a rack and gives 3.5kW of additional cooling at the bottom of a rack. It works with an external cooling unit and is intended for what Schneider describes as Edge deployments. It's available worldwide, and hooks into Schneider's Ecostruxure DCIM system for management and monitoring.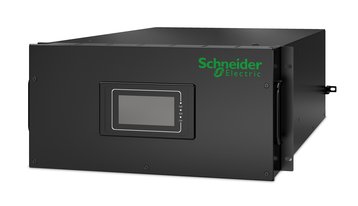 Cool where you want
"It's a flexible tool you can use wherever you want, to improve your current infrastructure," Schneider's director of data center cooling products Maurizio Frizziero told DCD.
The unit is a "split system," and cools air in the rack using DX refrigerant which is circulated on a loop between the rack unit and a heat rejection unit that mounts on the outside of a building. The external unit looks exactly like the units used by conventional air-conditioning systems. The in-rack unit needs this specific external unit, and can't be connected to an existing DX system or a third-party system, Frizziero explained.
The external unit can be up to 20m away from the in-rack unit, and up to 5m above or below it, according to a PDF brochure sent to DCD. It can be placed on a wall, on the ground or even, apparently, "on top of the rack."
Frizziero said the system is for "Edge" deployments, where the IT has to be positioned close to the users or data sources. This suggests the currently fashionable set of use cases such as IoT, streaming media and the like, which are tipped to grow massively in the near future, but in fact, the definition of Edge includes some old traditional use cases, where IT racks are already installed in office spaces.
The list of applications in the brochure starts with "existing small server rooms/network closets," explaining that this means rooms which have no cooling of their own, or which rely on air conditioning which is switched off at the weekend. It also suggests the unit could help when such rooms are becoming over-provisioned, or set up from scratch.
Such closets are normally assumed to be dying out, as small units of in-house IT are consolidated into larger corporate sites, or colocation facilities sites, or shifted entirely to the cloud. The system can be installed in standard IT racks, enclosed IT racks or ruggedized IT racks - Frizziero assured DCD it would fit in any standard rack.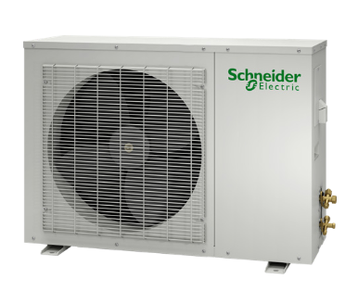 The Unflair in-rack system can also be installed in standalone enclosures such as the NetShelter units which are currently being marketed for Edge applications, or as additional cooling for a higher-density "hotspot" within a conventionally-cooled data center.
For high-density racks, 3.5kW of cooling does not sound much, but Frizziero said in such cases, the unit would be acting in addition to the existing cooling system - adding 3.5kW of cooling to a given rack, in a building which can already give that rack perhaps 3kW or more of cooling.
However, in self-contained modular data centers or in larger facilities, the system would require its own parallel cooling to be installed alongside the existing cooling systems. For this reason, Frizziero said that such use cases won't be a major market for the unit: "I don't see the hotspot as the top application for this unit."