A cooling system that lowers energy costs and delivers enhanced controls along with a new user interface has been added to Schneider Electric's InRow product range.
The second generation of the manufacturer's InRow DX 600mm system reduces energy consumption by 50 percent when compared to the original model.
It is capable of cooling up to 42kW of IT kit, with a maximum airflow of 4,000 cubic feet per minute.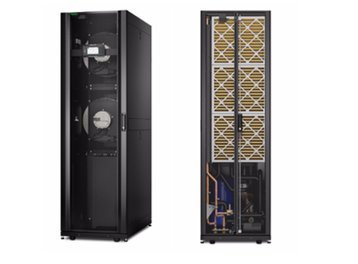 Cooling predictability
The new InRow model is the most efficient in its class, Schneider said, achieving this through the use of brushless variable speed scroll compressors and EC fans.
The design of the product links cooling to the IT heat load to prevent hot air recirculation. At the same time it improves cooling predictability and allows for a 'pay-as-you-grow' scalable development model, Schneider said.
It also introduces Active Flow Control, a technology that measures air pressure inside a containment system so that it can then adjust fan speed and match the airflow of the IT equipment.
InRow comes with a 4.3-inch touch screen display and a network card, which together improve access to data and increase visibility into the cooling system's performance.
InRow is available in self-contained, fluid-cooled, and air-cooled configurations with or without humidity control, and has a width of 600mm.
Matthew Baynes, data center business development director at Schneider Electric, said: "The latest generation of InRow direct expansion cooling puts efficiency and cost savings at the forefront for users, delivering the greatest partial-load energy savings available in a small but powerful system."