The giant SEA-ME-WE 5 subsea fiber optic cable, which promises a 24 terabits per second link from South East Asia to Eruope via the Middle East, has made landfall at Melaka Malaysia. 
Telecom operator Telekom Malaysia Berhad has landed the South East Asia-Middle East-Western Europe 5 (SEA-ME-WE 5) submarine cable at Melaka, Malaysia, according to an announcement by NEC, which is supplying the Singapore to Sri Lanka segment of the system. When completed later this year, the 20,000km cable system will deliver 24Tbps of capacity using 100Gbps fiber optic transmission technology, and will land at a total of 17 countries.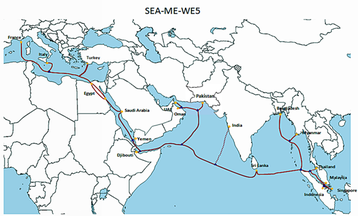 World tour
Aside from Malaysia, the countries it will drop off at in the region include Singapore, Indonesia, Myanmar, Bangladesh, Sri Lanka and Pakistan. As well as NEC and Telekom Malaysia Berhad (TM), the consortium behind the SEA-ME-WE 5 also includes Singtel and Telin.
"The telecommunications landscape and needs in Malaysia are fast evolving and we are delighted to be able to support this development together with SEA-ME-WE 5 consortium members," said Rozaimy Rahman, the executive vice president, global & wholesale, at TM.
"The installation of this new cable system presents greater opportunities to empower the Malaysian people through an enhanced connectivity with South East Asia, the Middle East and Europe," he said.
As we reported previously, the cost of connectivity has been identified as a stumbling block for new data center providers in Malaysia, though work is being done to rectify the situation by building more cost effective connectivity between data centers.
The influential Multimedia Development Corporation (MDeC) has appointed AIMS to create high-speed 10Gbps links between data centers, starting from data centers located in Cyberjaya, with an eventual goal of extending it to other parts of the country. SEA-ME-WE 5 will offer an additional option that should serve to alleviate price pressures for international bandwidth.