UK modular data center firm Secure I.T. Environments has built a small data center for local Edge provider, Proximity Data Centres.
The company announced this week that had it conducted the design and build work on a 1MW, 441 sqm (4,750 sq ft) facility, which has since been handed over to Proximity. The data center hosts 200 cabinets at 5kW per rack.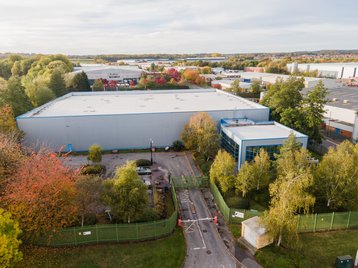 Neither the value of the project nor its location has been shared. However, the photo of the data center in the announcement is likely Proximity's Nottingham facility.
John Hall, managing director of colocation at Proximity Data Centres, said: "This was a significant expansion of the data center services we offer at a key site, and we wanted to ensure the best possible outcomes. The data center has been designed to achieve the best possible annualized PUE and Secure I.T. Environments has done an excellent job of delivering the project, handling every aspect of construction, installation, and testing."
Proximity currently operates 10 facilities across the UK, with a focus on locations outside the traditional hubs of London and Manchester. The company's portfolio includes a 6MW facility in Birmingham, one in Nottingham as well as sites in Liverpool, Chester, and Coventry, and the purchase of a Swindon data center.
Last year saw Proximity open a data center in Bristol, southwest England, that was seemingly a former Capgemini facility. Its most recently-opened site was a 3MW data center in Milton Keynes, acquired from Nuco Technologies.
Colo-X notes the Nottingham data center was originally built as a Siemens IT Services site; the firm was later sold to Atos around 2011. The site's landlord changed hands around 2016, and Colo-X reports Proximity took over operations of the facility in 2020.
Chris Wellfair, projects director at Secure I.T. Environments, added: "It is always great to work with clients that are truly committed to having the most energy-efficient data centers. Having complete ownership of a data center project means we can ensure the most efficient build program, and for our clients means they have only one place to go to get things done and discuss progress. It is great to be handing over this data center to Proximity on time, in budget, and to a world-class specification."
Secure has previously provided data centers to textiles firm Johnsons Services, Norfolk & Norwich University Hospital NHS Foundation Trust, and Thurrock County, as well as a host of unnamed clients.
The company said the project included the management of planning permission applications for all plant equipment on site. The perimeter of the new data center was based on a 60-minute fire-rated modular wall and roof construction, which included a separate UPS and switch room located in another area. It features N+1 air conditioning, Novec fire suppression and VESDA detection, extraction systems, environmental controls, and security systems including CCTV, door access systems, intruder alarms, and leak detection.
Secure said the modular design of the M&E infrastructure meant that components can be added in incremental phases to match the IT load.