French managed service provider Online is offering servers based on IBM's OpenPower architecture in its cloud, as an alternative to machines based on the Intel x86 architecture.
The service provider is incorporating IBM Power Systems S822L servers in its bare metal cloud, which offers dedicated machines to individual customers. Online aims to serve customers who are handling large amounts of data, and says Power is good for this task.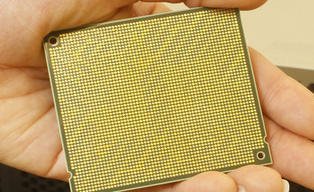 French Power?
France seems to be showing more signs of taking to IBM's chip challenger than some other countries, with a center designing high performance computing (HPC) applications for the chip opening in the country in July 2015
"With IBMs Power8-based servers, we can increase our levels of service to clients seeking a dedicated cloud platform alternative to x86 servers," said Sébastien Cassier, team leader at Online. Cassier says the ability to offer dedicated Power servers running Linux is a differentiating factor - which is true enough, as Online is the first service provider to do this, outside of IBM's service provider division, SoftLayer, which launched its bare-metal Power servers in March of this year.
Online's bare metal Power servers will come with Power KVM, IBM's distribution of the open-source hyperviser, used to manage virtual Linux systems.
IBM's Power architecture is a long-standing RISC (reduced instruction set computing) system, which was opened up to the industry in 2013, when IBM handed uture developments to a new OpenPower Foundation- which now has 150 members - and licensed the architecture to third parties. It's a model which has proven successful in portable devices for ARM Holdings.
Any chip challenger needs a range of applications to entice users on-board, and the HPC design center created by the OpenPower Foundation in Montpellier earlier this year is intended to make sure there are programs available for OpenPower, that can crunch large numbers for specific demanding applications.  
IBM says that OpenPower is suitable for big data applications, and that a Power S822L server can support 1.87 times more MariaDB transactions per minute per core at 40 percent lower cost than a similarly specified x86 system. 
Details of the Online service are here.