The shortlist for DCD APAC Awards, due to take place in Hong Kong on November 9 has been announced.
The winners of each category will be revealed at a gala dinner and prize-giving ceremony at the Hong Kong Convention and Exhibition Centre, a highlight of Hong Kong Data Center Week.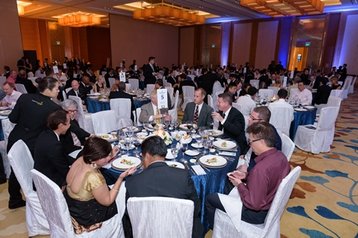 This year, the ten awards categories received an impressive number of entries from over 10 Asian nations including Australia, China, Hong Kong, India, Singapore, Indonesia, Korea, Malaysia and Philippines.
Known as the 'Oscars' of the data center industry, the DCD Asia Pacific Awards are part of a unique global series that provides worldwide recognition to outstanding individuals, teams and projects through the rigorous judging of an independent panel of industry experts. Past winners and finalists include many of the world's leading brands, recognized for their exceptional performance and contribution to the market.
"It's been my pleasure to Chair what is an incredibly respected and knowledgeable Judging panel again," said Ed Ansett. "The standard of entries and the level of innovation we are asked to adjudicate on continues to scale new heights. I'm delighted to see impressive entries in from right across the Asia Pacific region and feel this shows, if proof were needed, the sheer strength of the data center market in this region."
This year's shortlisted finalists are:
Sponsored by DELL

Commonwealth Bank Australia
Lintasarta
Samsung SDS
Tencent
Sponsored by CEEDA

Equinix Inc
Kingsland Data Center Pte Ltd
Netmagic (an NTT Communications Company)
Tencent
3 – Service Provider Data Center
Sponsored by CBRE
China Mobile Group Henan Company (Henan Mobile)
Equinix Inc (Asia Pacific)
Equinic Inc (Japan)
NTT Communications
Sponsored by DCD Group
China Unicom
Digital Realty
Tencent
Vodafone 
5 – Data Center Critical Environment Team of the Year

Sponsored by Huawei
Bajaj Electricals Ltd
Netmagic (an NTT Communications Company)
Shanghai Data Solution
WNS Global Services Pvt Ltd
6 – Critical Environment Future Thinking
Sponsored by DCProfessional Development
Myanmar Golden 11 
Netmagic (an NTT Communications Company)
NTT Communications Company
Tencent
7 – Energy Efficiency Improver's Award
Sponsored by Emerson Network Power 
Alibaba
Digital Realty
Fujitsu Australia
NEXTDC
8 – Data Center Transformation Project of the Year
Sponsored by ZTE 

Commonwealth Bank Australia
Huawei Technologies Co.,Ltd
Netmagic (an NTT Communications Company)
Telstra Corporation
9 – "Open" Data Center Project
Alibaba
Huawei Technologies Co.,Ltd.
UNITEDSTACK(北京)科技有限公司
10 – Cloud Journey of the Year
China Telecom
Datapipe
Netmagic (an NTT Communications Company)
Telstra Corporation
The following two categories do not accept external nominations, the winners will be announced on the night. These are:
11 – Business Leader of the Year
12 – Outstanding Contribution to the Industry
Sponsored by Digital Realty

The gala dinner and prize-giving ceremony commences at 7.30pm on Wednesday November 9. Limited places are still available.