Siemens' Building Technologies Division has launched Synco IC, a cloud-based system for the remote control and monitoring of HVAC (heating, ventilation and air conditioning) plants. Synco IC is one of the first building automation systems designed for use in smaller and medium-sized buildings. Until now it has not been economical to use building automation in properties of this size.
Synco IC provides an overview of the HVAC systems and shows the most important information about the connected facilities at a glance. Operators see immediately which units are connected to the building automation system, whether there are any error messages, and can check the energy-efficiency rating of individual HVAC plants.
How a cloud-based remote control system works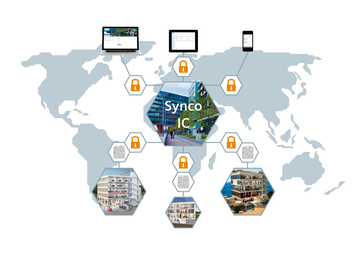 Synco IC identifies plants that are not energy-efficient and allows users to correct the settings with a single click. Detailed views, from entire buildings to individual floors to single plants and disciplines, can be accessed from the plant overview.
Siemens claims that Synco IC is exceptionally easy to install: connect the web server to the field bus of the HVAC plant and then to the power supply and then the Internet.
The system supports all units equipped with Synco and Sigmagyr controllers, communicating thermostats or KNX devices (KNX is a standard for intelligent buildings). Commissioning, says Siemens, is just as easy: all it takes is setting up an online user account.
In developing Synco IC, Siemens paid special attention to data security. Data transmission over the Internet is encrypted to prevent hacking. Depending on the customer's requirements, data is stored redundantly in data centers across separate locations to ensure the highest level of security. Systems and data are accessible only by authorized persons with the proper access rights based on their responsibilities and role.
Why small building systems are now economical to install
According to Siemens, buildings account for roughly 40 percent of global energy consumption, with 66 percent of all buildings falling into the small and medium-sized category, which means that they consume most of the energy. However, this market has not, traditionally, been viable for professional building automation since the buildings were too small for such systems to be economical.
Synco IC addresses this problem with new technologies such as data clouds and universal networking of all products. The system configuration as well as service work can be done by remote access, and the distributed building automation system can be controlled centrally for multiple branch offices. The server and storage space can be purchased or leased in any data center and expanded as needed. This allows Synco IC operators to save human resources and costs and benefit from energy savings even in smaller and medium-sized buildings.