Singtel has broken ground on a new data center in Singapore.
The company this week announced it has commenced the construction of a new facility, known as DC Tuas, following a groundbreaking ceremony with Infocomm Media Development Authority's (IMDA) chief executive Lew Chuen Hong.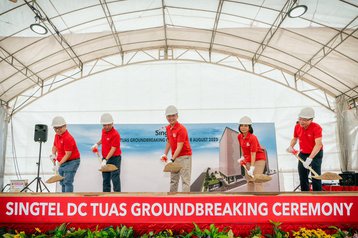 The eight-story building is set to offer 58MW of IT load capacity across 120,000 sq ft once it goes live in 2025. The data center is set to be integrated with the telco's existing cable landing station (CLS).
Bill Chang, CEO of Singtel's Digital InfraCo said: "DC Tuas is based on Singtel's fourth generation design with the highest power density, and hyper-connected with a number of international submarine cables connected directly to it. This will be an important addition that will strengthen Singapore's digital infrastructure and position the country as a key business and connectivity hub. It is also a key milestone for our new standalone digital infrastructure business to capture the significant demand for cloud services and the rapid rise of AI adoption in the region."
He continued: "With DC Tuas, we have leveraged our expertise and experience in designing, building, and operating data centers to offer a differentiated value proposition to customers – a carrier-neutral advanced facility with access to exceptional connectivity and security. Singapore is integral to our regional data center strategy and we look forward to continue supporting the country's ambition to be a sustainable, global digital hub."
DC Tuas is Singtel's largest data center in Singapore to date and will have rack densities of up to 80kW per rack via liquid cooling, and a target PUE of below 1.3.
IMDA's Lew said "Congratulations to Singtel on the groundbreaking of DC Tuas. It is encouraging to see companies such as Singtel invest in our digital infrastructure. IMDA will continue to work with the industry to architect a sustainable digital ecosystem that is internationally connected, to serve the long-term demands of Singapore's digital future."
Singtel's Tuas CLS, located at 9 Tuas Avenue 3, is the landing point for the i2i, SJC, ADC, and the SMW3,4, and 5 cables, and is set to be the landing point for the SMW6 cable.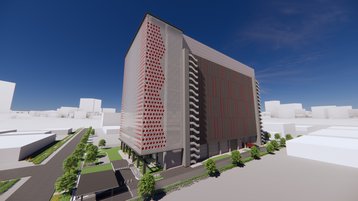 Singapore has had a moratorium on new data center developments since 2019 (although already authorized facilities were allowed to be built after this point). However, this ban was relaxed slightly in July 2022 when the Singapore Economic Development Board (EDB) and the Infocomm Media Development Authority (IMDA) announced a pilot scheme allowing companies to bid for permission to develop new facilities.
Equinix, GDS, Microsoft, and a consortium of AirTrunk and TikTok-owner ByteDance have been granted permission for a combined 80MW of capacity.
It's unclear whether Singtel had secured permission to build the new data center before the moratorium was brought in. DCD has reached out for more information.
Singtel currently provides 60MW of DC capacity in Singapore. The company has a portfolio of around 10 data centers across Singapore, Australia, and Hong Kong. The company recently carved out its infrastructure assets into a single unit as part of an ongoing restructuring.
In October 2021, Singtel announced plans to form a new data center company focused on Southeast Asia, beginning with a Thai joint venture with Gulf Energy, and with AIS joining the partnership in early 2022. Singtel is also developing a 51MW data center in Indonesia in partnership with Telkom and Medco Power.