Indonesian telco Smartfren and UAE technology firm G42 are to develop a 1,000MW data center in Indonesia.
The two companies have signed a memorandum of understanding (MoU) for the project, but didn't specify location, timeline, specifications such as the number of buildings, or investment costs.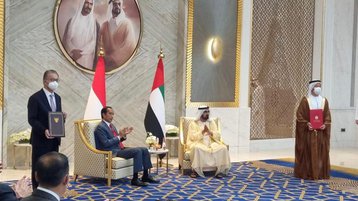 Franky Oesman Widjaja, chairman and CEO of Smartfren's parent company Sinar Mas telecommunications & technology, said: "Smartfren understands the importance of data centers as the backbone of the development of the digital industry in Indonesia. We are optimistic that this collaboration will realize the construction of data centers in the country and maintain national data sovereignty, which is being carried out by the government of Indonesia."
PT Smartfren Telecom Tbk, formerly known as PT Mobile 8 Telecom Tbk, is an Indonesia-based wireless network operator based in Jakarta.
"With our capabilities in cloud computing, we at G42 are happy and ready to work with Smartfren and its partners to support the strategic development of Indonesia's digital infrastructure in accordance with the highest international standards for facility design, operations, and data privacy and security," said Peng Xiao, CEO of G42.
The signing of the MoU was attended by President of Indonesia Joko Widodo and the Crown Prince of the United Arab Emirates, Sheikh Mohamed bin Zayed bin Sultan Al Nahyan.
Sinar Mas is an Indonesian conglomerate founded in 1938 and has holdings in real estate, financial services, and telecommunications. Its pulp and paper businesses have previously caused controversies due to palm olive oil practices.
In the UAE, Etisalat Group and G42 recently combined 12 data centers under the Khazna Data Centers brand.