Singapore-based SpaceDC today announced a new 72MW data center campus in the Philippines that it says will be the largest hyperscale facility in the country.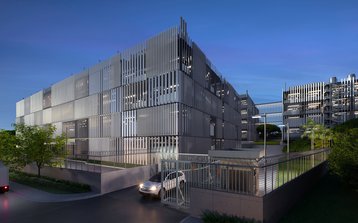 Its largest data center
Scheduled to open this year, MNL1 is located in Cainta, part of Greater Manila. In a first, SpaceDC says the campus will be fully powered by renewable energy in the form of wind and geothermal power.
It is not clear if this will be in the form of carbon credits or will be piped directly to the campus. We have asked SpaceDC for additional details and will update this article when we hear more.
According to the data sheet available on its website, the 43,000 sq m campus is made up of 12 four story buildings, with four data halls each. Each data hall delivers up to 1,500kW of power with a total of 48 such data halls within the campus.
There is also another four-story admin building, as well as a single story data center with 700kW of power. SpaceDC says MNL1 will have a PUE of 1.3.
Rack heights of up to 52U are supported within data halls. Chilled water supply supports water cooled racks of up to 50kW each, though there is no mention about how many such racks can be supported within the campus.
The facility sports N+1 design with diverse fiber connections and dual high voltage power feeds.
"The Philippines ranks second in terms of data center growth in Southeast Asia. With only 47MW of available capacity in the country it is a dramatically underserved market. We are excited to be a first mover in a new market where we see our customers are investing heavily in," says Darren Hawkins, CEO of SpaceDC.
MNL1 is SpaceDC's third hyperscale campus and largest to date, on the heels of JAK1 in Indonesia and the NCR1 in India.