SpaceX has won its spectrum dispute with Dish Network after the Federal Communications Commission (FCC) voted to safeguard Starlink's access to the 12GHz spectrum.
For Dish, this means that it won't be able to utilize the same radio band for a terrestrial 5G network, as the FCC voted unanimously 4-0 in favor of SpaceX.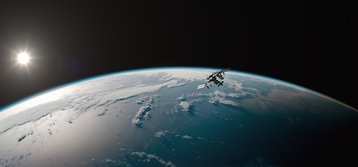 "First, we take action to ensure the present and future of satellite services in the 12.2-12.7 GHz band. We recognize that millions of people rely on services in this band—and we want to see that continue, "said FCC Chairwoman Jessica Rosenworcel.
"But we also realize there may be additional potential in these airwaves, so we are exploring ways to also use this mid-band spectrum for fixed licensed and unlicensed terrestrial services."
SpaceX and Dish have been at loggerheads for some time over the spectrum dispute, with SpaceX concerned that plans from Dish to use 12GHz spectrum for a cellular network could interfere with its Starlink broadband services.
Starlink uses a spectrum in the 12GHz band to connect its satellites in non-geostationary orbit (NGSO) to user terminals.
Dish Network also uses frequencies in the band, as it provides linear TV programming in the 12.2 to 12.7 GHz band.
The FCC noted that Dish failed in its effort to convince the Commission that its proposed 5G network could coexist with Starlink.
"Our engineers have concluded, based on the studies filed, that high-powered mobile broadband deployed nationwide would interfere with established and emerging satellite services." He added, "I would have preferred a solution that allowed both services to flourish, but for now, we must adapt," added Commissioner Geoffrey Starks.
The FCC also said it's investigating the potential to expand terrestrial fixed use or permit unlicensed use in that spectrum, with Rosenworcel noting that the Commission has identified the 12.7-13.25 GHz band as a prime candidate for new mobile use.
SpaceX subsidiary Starlink took to Twitter to thank the 100,000 people that voiced their support through the FCC's online comment system against Dish's proposals to use the spectrum.
Towards the end of last year, SpaceX revealed that it has over one million active Starlink subscribers in the US.